Lamb Shanks with Fried Vegetables and Tomato sauce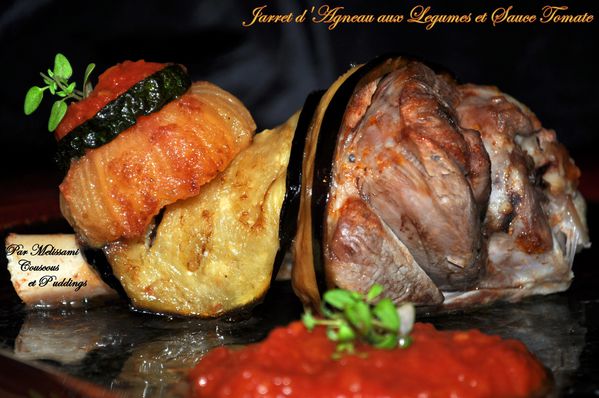 Today I share with you a very simple recipe for lamb shank served with fried courgettes, aubergines and tomatoes. Usually I cook the shanks in foil (without water) and I add some roasted potatoes and sauteed green beans but this time I was tempted by a recipe of an Algerian contestant who participated in the contest of the best restaurants in England led by Gordon Ramsay. Azouz had submitted a recipe of lamb tagine with couscous, Algerian bread and Hmiss. The shanks were described by Gordon Ramsay as the best lamb shank that he had ever eaten (tender and juicy), Azouz won the final of the best North Africans restaurants. Unfortunately I have not had time to prepare the tagine so I simply followed the way he cooked his shanks and the result was great, thank you Azouz and it is with your recipe that I participate to the contest titled "Sublimez votre viande" of the wonderful blog La cuisine de Lustucubleu . You can be the winner just by subscribing to her newsletter, so do not delay and do it. Good luck....
XXXX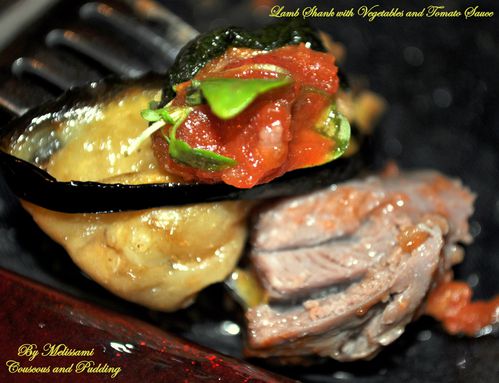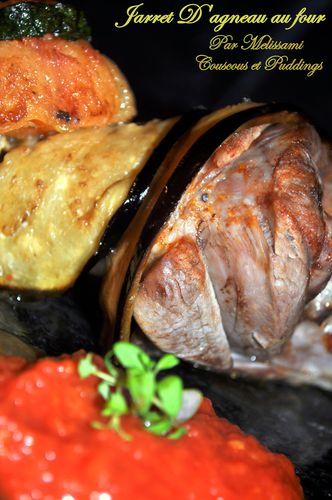 Ingredients:


Lamb shanks.

500ml water

1 tsp ground cumin.

1 tsp paprika.

1 tsp tomato puree.

1 tsp ground ginger.

Salt and pepper

Aubergine

Tomato

Courgette

Oil for frying

Tomato sauce (I used the cooking juices from the meat to make it)



Method:


Preheat oven to 180 C.

Arrange the lamb shanks in a roasting pan and add water, cumin, ginger, paprika, tomato paste and season to taste.

Cover with foil and bake for 2 ¾ -3 hours.

Fry your vegetables cut into slices in hot oil.

Serve the meat with fried vegetables and tomato sauce.