Berkoukes (Aich) or Semolina Pasta Bullets with Vegetables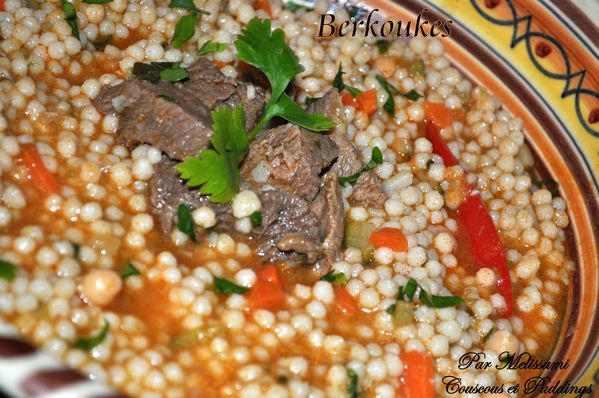 In my native country at this time of year we often say nothing is better than a plate of Berkouk or Aich to create a warm atmosphere around our table. Small grains of semolina that melt in your mouth in a rich tomato sauce with seasonal vegetables of the season, this preparation is as appreciated by adults as kids. You can prepare this dish the same way with chicken and add dried lentils, peas or dried broad beans. Try it and you will agree with me that there is no better way to melt my snowman !!!!???? lol.
XXXXX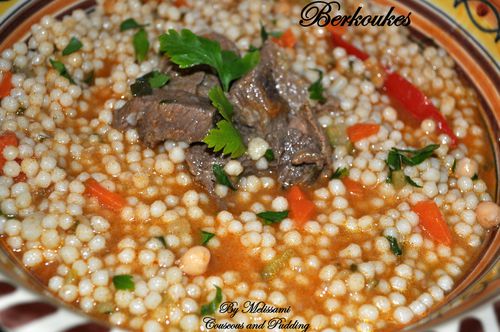 Ingredients:

500g beef or chicken
500g Berkoukes
1 head garlic
1 onion
1 pepper
1 courgette
1 carrot
1 potato
1 parsnips
2 tomatoes, grated
1 handful of peas or beans or chick peas
paprika, cinnamon
salt, pepper, hror
4 tbsp of oil
1 tbsp of tomato concentrates
Coriander


Method:

In a saucepan, saute the meat, onion and garlic in oil. Season.

Cover with water, add the paprika, chickpeas, coriander and tomato.

When the meat is half cooked add the diced vegetables. Cook.

Add the berkoukes and simmer for 20min.

Serve warm or leave until the berkoukes absorb the sauce (you can see the difference in the photos).