Homemade Tagliatelles Pasta
Homemade Tagliatelles Pasta with Bolognese Sauce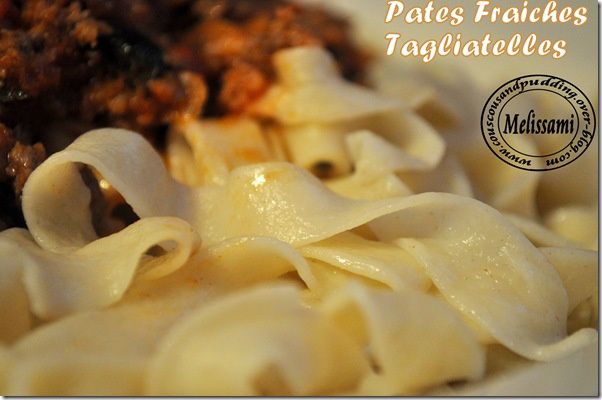 Today I share with you my first experience of making fresh pasta which for a first attempt I am very happy with the result. I was reading a Jamie Oliver book where I found this recipe that he described as the easiest recipe of pasta ever, so I wore my apron and started making it for lunch (I used half the dough). We loved it so much, me and the kids, that I used the other half for dinner but I must confess that the pasta for dinner was slightly better as I left the dough in the fridge all afternoon but unfortunately I didn't take photos as I had a hungry husband to feed .lol. I have served my pasta with a Bolognese sauce..very yummyyyyyyyyyyy
XXXX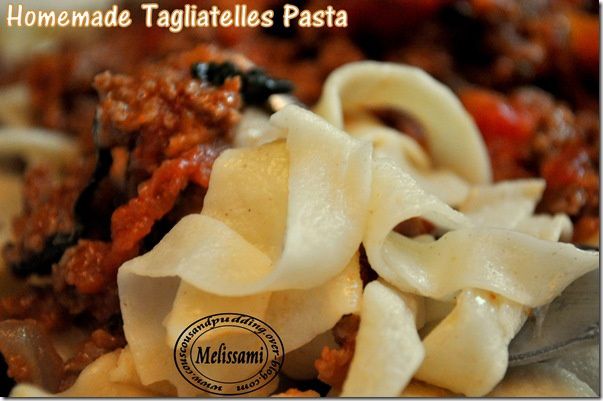 Ingredients:
For the pasta:
300g flour
3 eggs
For the Bolognese sauce:
300g minced meat
1 large onion
1 carrot
2 garlic cloves
2 tbsp olive oil
280g canned chopped tomatoes
1tbsp chopped fresh basil
2tbsp tomato puree
Salt and pepper
Method:
For the Bolognese sauce:
Heat the oil in a saucepan. Add the garlic, onion and carrot and fry for 5min.
Add the mince and cook over a medium heat for 10min.
Stir in the tomatoes and basil, season to taste. cover and leave to simmer for 30min.
Remove the lid and leave to simmer for 10min.
For the pasta:
Place the flour in a bowl, make a well in the centre and crack the eggs into it. Using a fork beat the eggs until smooth.
Mix together with the flour, then flour each hand and begin to knead.
Cover the dough with a clingfilm and leave it to rest. the longer is the better.
Divide the dough in half. cover one half with clingfilm and place in the fridge.
Run the pasta dough on the thickest setting of your pasta machine for a few times, folding it in half each time until you have a nice, elastic, silky dough.
Keep rolling the pasta through the settings, reducing the thickness each time.
Put your pasta sheet through the tagliatelle cutter of your pasta machine.
Cook in boiling water for 3 min.
Drain.
Transfer the pasta to a serving dish. Pour the sauce over it and serve hot.