Algerian Couscous with Vegetables
Algerian Couscous with Vegetables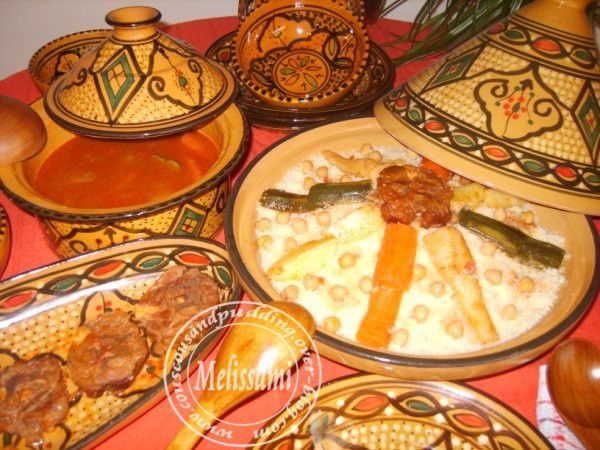 To mark the occasion of the anniversary of the first month of my blog I am publishing my own couscous recipe as a thank you to everyone who has supported me and encouraged me, at their head my friend Soulef... Amour de cuisine.., my mum and my sister. A big thank you to Radia juju of Canada for her daily advice as well as all the bloggers who have much welcome me in this new world. Thanks to all the girls of the fofo Naima, Mimi, Malikos,Sam, Sousou, Nabila, etc. .. and all my facebook friends. I confess that I haven't spent much time in front of my computer since I finished my PhD a few years ago. I wanted to document my recipes for ages , the desire was in my head for a long time but I needed a Click and finally I am putting in the work with the help of Soulef, I know that this has not been easy, neither for me nor for her, lol, but I finally did it. Please browse through my recipes and even try them, it will not take too much time as most of them are quick and easy to make.

Melissami...xxx



Ingredients:

Pieces of meat
750g couscous
1 large onion
2 courgettes
2 carrots
2 parsnips
2 potatoes
2 tomatoes cut into small pieces
1 handful chickpeas
1tbsp tomato paste
4 tbsp of oil
salt, pepper
1 / 2 teaspoon cinnamon
1 / 2 teaspoon Paprika


Method

sauce
In a saucepan, saute the meat, grated onion, salt, black pepper, in 4 tbsp of oil
Add tomatoes, tomato paste and paprika, simmer
Add 1 liter of water
when the meat is half cooked, add the vegetables and chickpeas
Continue cooking

couscous
Wet and drain the couscous, add 1 tablespoon oil, Rub couscous well between your hands using a circular raking motion untill all the grains are seperate. Then put it in a couscousier over boiling water, making sure the couscous is lump free.
Once steamed, remove from couscousier, wet again with 1/2 cup water and salt.
Let stand for 30 minutes.
Return to steam a second time.
Remove from couscousier, place in a bowl and add butter.

Put the couscous in a serving dish and drizzle with sauce and meat.