Cheese and Mushrooms Gougere
A Gougère or a savoury choux pastry with cheese and parsley with mushroom and white sauce, is that I share with you today. A puffed, golden and crispy gougere, very tasty served as an appetizer or as a main dish.
XXXXX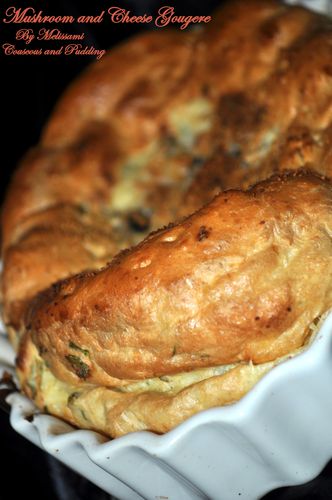 Ingredients:

300 ml water

60g butter

4 eggs, beaten

70g grated cheddar cheese

2 tbsp of chopped parsley

Salt and black pepper

To finnish
1 tbsp of butter

Bechamel sauce (recipe here)




Method:


Prepare the choux pastry:

Sift the flour with a pinch of salt.

Place water and butter in a saucepan and bring to a boil.

Remove from heat and add flour. Beat until the mixture is smooth and shiny.

Return to heat until the dough pulls away from the sides of the pan.

Let cool slightly.

Add eggs into flour mixture.

Add grated cheese and parsley. Season.

Butter a large baking dish and gently press the puff pastry around the edge.

Cover and refrigerate while preparing the filling.
Melt the butter in a large saucepan, add the mushrooms and cook gently for 5 minutes.

Prepare the bechamel.

Add mushrooms to the bechamel and season.
Pour mushroom mixture in the middle of the ring of choux pastry and bake in a preheated oven at 220C for 35-40 minutes or until the Gougère is puffed and golden.