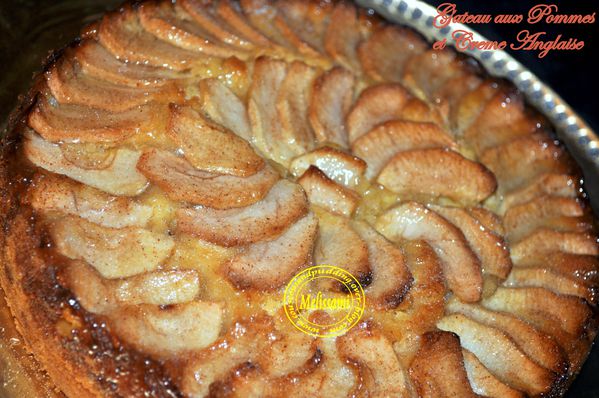 Today I share with you this very light and sweet apple cake with two custards . I added a layer of homemade custard in the middle of the cake and custard powder to the mix to give the cake a better taste and a beautiful color.
XXXXX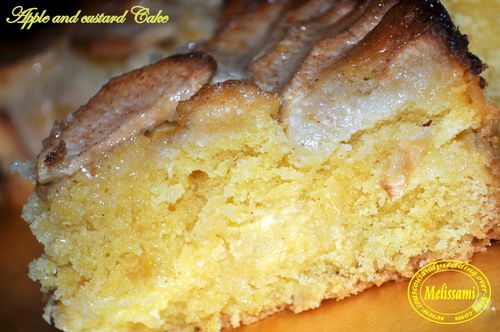 Ingredients:


200g butter
110g sugar
2 eggs

185g Raising flour
40g custard powder

3 apples
1 tbsp butter
2 tsp sugar
1 / 2 tsp cinnamon

For the custard:

275g double cream
3 eggs yolk
1 teaspoon cornstarch
25g sugar


Method:

Prepare the custard:

Heat the cream.
Whisk egg yolks, cornstarch and sugar in a bowl.
Gradually pour the hot cream into the bowl.
Put back in the saucepan and continue whisking over low heat until the cream is thick and smooth.
Pour the cream into a bowl, cover the surface with plastic wrap and let to cool.


Beat butter and sugar in small bowl with electric mixer until light and fluffy.
Add eggs, one at a time.
Stir in sifted flour and powdered custard.
Spread half the mixture into a buttered tin, then put a layer of custard. Cover with the remaining mixture.
Arrange apples on top.
Brush with melted butter and sprinkle with sugar and cinnamon.
Bake in a preheated 180 ° C for 1 hour 1 / 4.
Sprinkle with sugar.