Stuffed dough squares -- M'hadjeb
Stuffed dough squares -- M'hadjeb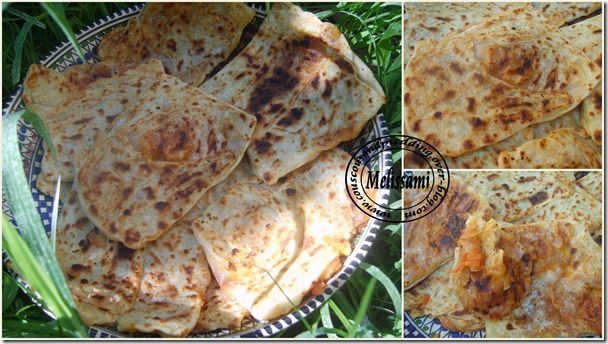 Hello
Today I share with you these stuffed dough squares with tomato and chilli. A real Algerian treat also called mhadjeb, Mahdjouba. Traditionally we add to the stuffing a small piece of dried and salty fat (cheham ghawi).
xxx

Ingredients

For the dough
1 kg of fine semolina
1 tbsp Salt
Water
Oil

For the stuffing
4 onions
1 kg tomato
1 chilli
1/2 bulb of garlic
2 tbsp of oil
Method:

Prepare the stuffing:
Put oil in a frying pan, add onions, garlic and diced chilli . Season.
Cover and cook over a low heat.

Prepare the dough:
Sift the semolina
Add salt and dilute with a glass of water.
Mix together.
Working the dough, sprinkle from time to time with water until it becomes soft but not sticky.
Oil your fingers, divide the dough into small balls about the size of an egg.
Let stand for 30min.
Spread dough on an oiled surface, by flattening and stretching it to form a very thin sheet.
Spread a tbsp of stuffing in the middle of the sheet.
Fold 2 sides of the sheet, then the other 2, to form a square.
Drizzle with oil .
Bake in a tajine or a clay pot, lightly oiled.