British Summer Fruits Pudding
British Summer Fruits Pudding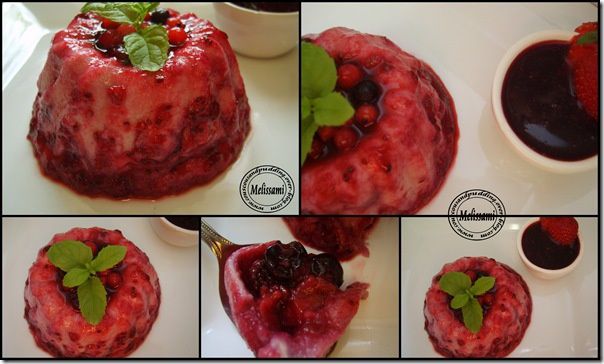 Hi,
Today i share with you this wonderful mixture of summer fruits in slices of white bread which you should leave in the fridge to chill for 8 hours or overnight for the bread slices to soak up all the deep red, flavoursome juices. I've chilled my puddings for only 3 hours that's why the bread didn't turn out deep red in colour..lol
xxx
Ingredients:
8 thin slices white bread (or brioche)
500g mixed summer fruits (raspberries, blueberries, redcurrants and strawberries, blackberries)
300ml water
180g caster sugar
Method:
Place the sugar in a saucepan with the water and heat gently, boil for 2 min.
Add the fruits and simmer gently for a few minutes.
Line the pudding moulds with the bread, cutting it so its fits snugly.
Spoon the fruits and some of the liquid into moulds.
Cover with more slices of bread.
Spoon a little juice around the sides of the moulds so the bread is well soaked.
Cover with a saucer and a heavy weight.
Leave to cool, then chill overnight.