Date Filled Algerian Sweets
Date Filled Algerian Sweets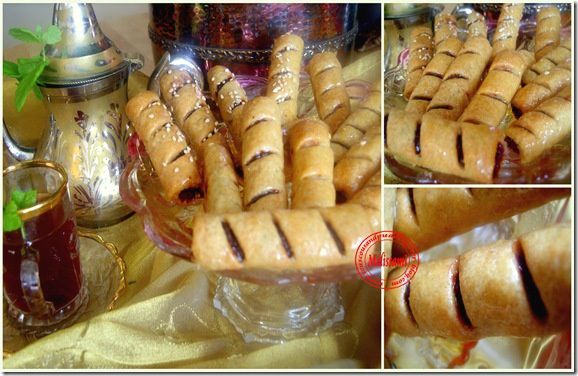 Hi
Today I share with you these Algerian honey sweets. Simple and easy to prepare usually served as an accompaniment to tea.
Have a nice weekend

Ingredients:

4 cups flour
A pinch of salt
1 cup oil + melted margarine
a tbsp Granulated sugar
1 egg
4 tbsp orange blossom water
1 tsp baking powder
Water

For the filling
1kg of paste of dates
1 / 2 tsp cloves
3-4 tbsp oil
Honey

Method:

steam the dates paste and then mix it with the cloves. Add the oil so that the mixture is smooth.
In a bowl, mix the flour, sugar, salt and baking powder
Add the egg, margarine and oil
Rub well and use perfume with water of orange blossoms
Drizzle a little bit of water until obtaining a firm, smooth dough.
Cover and let stand for 30 min.
Roll out the dough to a thickness of 1 mm.
Cut out strips and arrange on the edge of each strip of dough a string of dates.
Roll the tape on it 2 or 3 times.
Cut out the sausage.
Using a knife to decorate the top of cake.
Bake in preheated oven GM5 for 20 min
Dip the cakes in honey and sprinkle with sugar or sesame seeds.