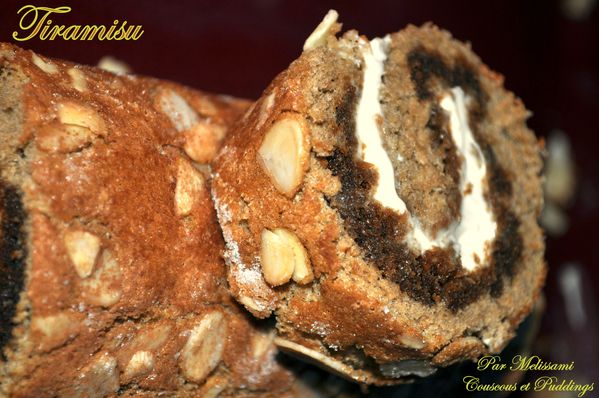 Today I share with you my first swiss roll that you could also cover with chocolate icing or cream as desired for a festive log. As it was my 1st attempt I could have just filled my roll with jam but as I also wanted a nice tiramisu so I decided to prepare it as a roulade. I have watched it once on TV how to make a roulade and here is the result. Unfortunately, the pictures do not do it justice because of the mixture of mascarpone and coffee it doesn't show the lightness of the sponge, it was a delicious dessert, that my husband already wants again soon.
XXXXX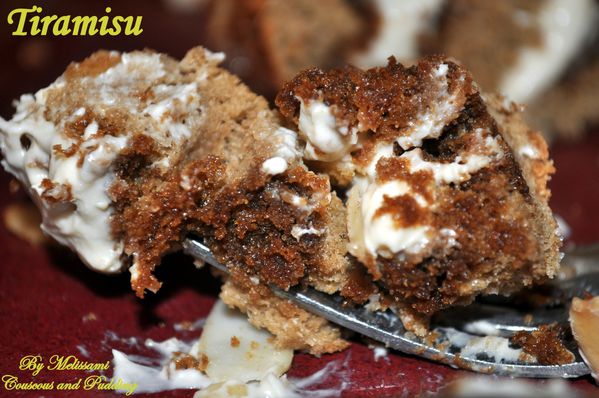 Ingredients:
For the syrup:
2 tbsp nescage
60ml water
2 tbsp caster sugar
For the sponge:
1 tbsp nescage
1 tbsp boiling water
3 eggs
110g caster sugar
76g plain flour
2 tbsp flaked almond
For the cream:
250g mascarpone
125ml whipping cream
1 tbsp nescafe

Method:

For the syrup:
Combine the ingredients, bring to the boil, reduce heat and simmer about 5 min or until surup thickens
For the sponge:
Dissolve the coffee in the water
Beat eggs and the sugar in a small bowl until the mixture is thick, fold in the dissolved coffee.
Sift the flour twiche , then sift it again over the eggs mixture, and fold gently.
Spread the mixture into a greased swiss roll tin 25/30cm and covered with baking parchment.
Bake in a preheated oven 200C for about 15 min.
Meanwhile, place a piece of baking parchment cut the same size as your roll on a table and sprinkle it with 2 tbsp sugar.

Turn sponge onto sugared sugared paper, peel away lining paper. use a knife to cut crisp edges from all sides of sponge.

Roll sponge from long side, using the paper. leave to cool.
Beat the ingredients in bowl with an electric mixer.
Unroll the sponge, brush with reserved syrup.
Spread cream over the sponge and re-roll.
Cover with a clingfilm and refregirate for 30min before serving.