Tandoori Chicken and Ratatouille on the Menu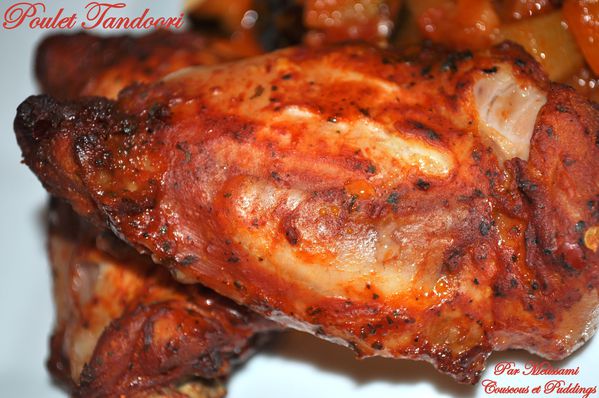 Tandoori chicken is a very popular Pakistani / Indian dish consicting of roasted chicken, yogurt and spices. The chicken is marinated in yogurt and seasoned with tandoori masala. It is moderately hot. Ratatouille is a wonderfully versatile dish, and is especially useful when catering for vegetarians.
XXXXX
Ingredients:
For the tandoori chicken (Jamie Oliver's recipe)
1 kg chicken pieces or fillets
200g natural yoghurt
1 tbsp fresh ginger, grated finely
1 tbsp garlic, grated finely
1 tbsp tandoori paste
½ tsp tandoori food colouring (optional)
2 tsp cumin seeds, ground
2 tsp ground coriander
1 tsp garam masala
½ tsp chilli powder
½ tsp turmeric powder
Salt to taste
For the ratatouille:
1 aubergine
1 onion
2 peppers
2 courgettes
2 garlic cloves
450g tomatoes
4 tbsp of oil
1 teaspoon sugar
2 tbsp thyme
salt and black pepper
Method
Tandoori chicken:
In a bowl mix together yoghurt, salt, chilli, coriander, cumin, garam masala and tandoori paste. Rub mixture into chicken and leave to marinate for at least 2 hours in the fridge.
Pre-heat the oven to its highest setting. Bake chicken for 20 minutes then reduce the oven heat to 120°C an cook until tender.
Ratatouille:
Dice the vegetables
Heat oil, add chopped onion and garlic and leave on low heat for 3 minutes while stirring.
Add the aubergine and peppers.
Cook for 10 minutes.
Stir in tomato and courgettes, sugar and thyme. Season.
Cook over low heat for 30min.