Stuffed Focaccia with Spinach and Mozzarella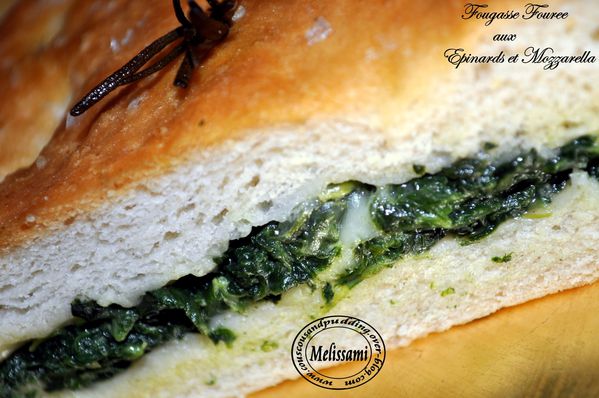 I am always looking for new ideas to make children eat vegetables and especially spinach, I usually prepare them in quiche, and as my children like focaccia, so I stuffed it with spinach and mozzarella. This focaccia is kneaded by hand but I personally prefer the one I prepared with the breadmaker (recipe here) lol although this focaccia remained very light and delicious for next day lunch.
XXX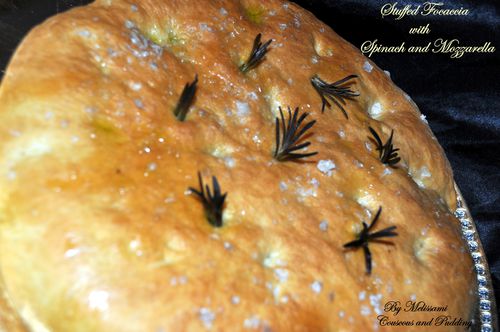 Ingredients:


450g strong bread flour

2 tsp quick action dried yeast

300ml warm water

3 tbsp olive oil

Filling:

200g frozen spinach

200g mozzarella

1 tbsp of mixed herbs (sage, thyme, Origano, rosemary)

Salt and pepper

To Finish

Olive oil

Rosemary

Coarse Sea salt (not for children)


Method:
Sift flour into a large bowl, add yeast. Make a well then add gradually water and oil to make a dough.
Knead the dough by hands for 10 minutes or until the dough is soft and elastic.

Cover and let stand until the dough doubles in volume.

Squeeze spinach to remove any excess water, add the diced mozzarella, and herbs. Season.

Divide the dough into two equal parts.

Roll out each ball on a floured surface.

Line a well buttered tin, spread the stuffing and cover with the other half of dough.

Squeeze the edges (brushing the dough with a little water).

Garnish with rosemary and coarse salt and moisten with a little olive oil.

Bake in preheated oven 220C for 30-35min.

Leave in pan for 10 minutes then cut and enjoy .