Spinach Tomatoes and Mushrooms Pie

Spinach, Tomatoes and Mushrooms Pie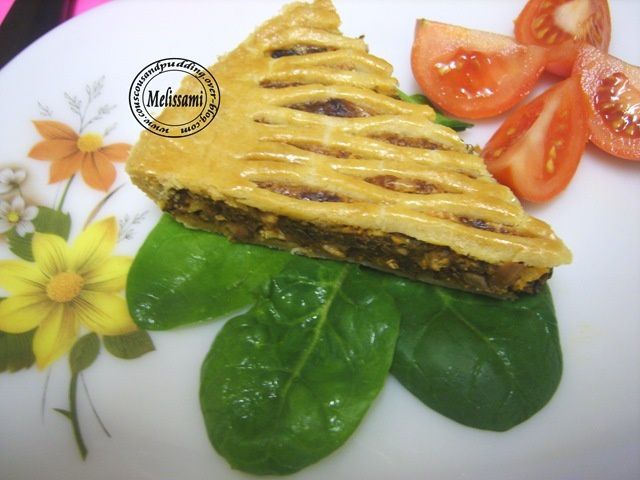 Hello,
Today I share with you my pie with spinach, tomatoes and mushrooms that I forgot in the oven lol. This is the first time I have prepared it with tomatoes and personally I prefer the one I used to do ... .. Spinach and bechamel. ... I'll probably do it next week ..
Ingredients:
The crust pastry
300g flour
150g butter
1 pinch salt
1 egg
1-2 tablespoons cold water
Fillings
Spinach
Tomato Sauce
1 egg
Olives
Mushrooms
Cheese
Method
Dough
Mix the butter cut into small cubes with the flour and salt until a sandy powder
Add the egg and then gradually the water while assembling the dough into a ball.
Cover and let to cool for 1 hour.
Filling
Cook the spinach.
Prepare the tomato sauce.
Sauté mushrooms in oil.
Add to the tomato sauce, mushrooms, spinach, olives cut into small pieces and one egg.
Pie
Divide the dough in half.
Roll the first half on a lightly floured surface.
Line a greased pie tin.
Spread the filling mix on the Dough.
Add grated cheese.
Roll the rest of the pie crust.
Cover the filling by the second pie crust. While welding the edges of the pie.
Brush with a little beaten egg.
Bake in preheated oven for 45-60 min GM5