Osbane or stuffed Douwara
Osbane, the Algerian version of the Scottish Haggis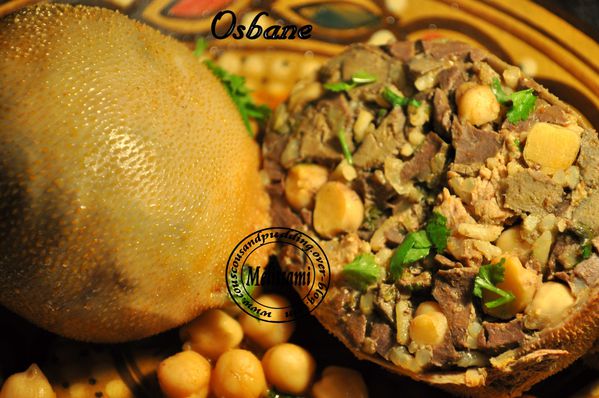 For this recipe I had to get out my needle and cotton for a sewing session. Well I can tell you that it doesn't happens often lol, you can see it from the shape of my osbanes, as my mother makes them perfectly round, but hey it's not mandatory, it's just aesthetic lol. This recipe is from my mother and grandmother, or rather it is a family recipe, so rich and full of meat, liver, lungs, intestines (I have not put in because there aren't any here), the cheham fat (which I didn't have), chickpeas and rice. It's very good with sauce or without. For the preparation of douwara (stomach) and lungs, see my recipe of bakbouka (Recipe here).
XXXX


Ingredients:

For the osbane:

Douara or stomach already prepared
The same quantity of: Lungs already boiled, meat, liver, intestines and fat diced
1 handful chickpeas
1 tbsp of rice
1 onion
2 garlic cloves
Caraway, paprika, cinnamon
Salt, pepper
1 bunch cilantro
1 bunch parsley

For the sauce:

3 onions, finely chopped dried
1 tbsp of tomato concentrates
1handfull of chickpeas
Cumin, red pepper
Salt and pepper
3 tbsp of oil
1 bunch of parsley


Method:

Prepare the stomack and lungs (see recipe bakbouka).
Cut the stomach into 4 or 5 large pieces (depending on the size of it) so that each piece folded in half will form a pocket.
Using a needle and cotton, sew the pocket allowing a small opening to put the stuffing.
In a bowl, combine all ingredients.
Fill the pockets with the stuffing.
Sew the opening.
Prick several times.
This osbane can be cooked in boiling water or in a sauce.
In a pot, place all ingredients for sauce and osbanes.
Cover with water and cook (2 to 3 hours depending on the size).
The sauce should be reduced.