Mini Savory Cakes with Turkey Ham and Olives
Since I tried this recipe of delicious mini savory cakes, very light and very easy to prepare, with turkey ham and olives, I do it now very often. I found this recipe here.
XXXXX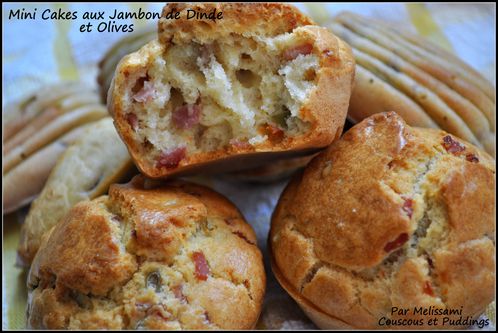 Ingredients
3 eggs

110 g flour
1 teaspoon baking powder
80 g salted butter
2 slices of turkey ham
15 pitted green olives
Method:


Preheat oven to 220 degrees.

Melt the butter

In a bowl, break the eggs. Add flour and baking powder. Mix.

Pour the melted butter. Mix.

Add the ham and olives cut into small pieces.

Let dough rest 1 / 2 hour (optional)

Fill madeleine molds 2 / 3.

Bake 4 minutes, then lower the oven to 200 degrees for 6-7 minutes.