Makroutes or Makroudes with Dates
Algerian Recipe for Semolina Lozenges with Dates and Honey مقروط التمر
Again, my friend Malikos shares her fried makroutes with dates (Recipe and Photos) with us. The makrout is an Algerian sweet made with semolina and dates or almonds ... etc., fried or baked then dipped in honey or syrup. Accompanied by a nice cup of tea, reminds me of the good old days in Algiers, when these sweets were always (and still) present at all weddings, circumcisions and Eid parties. Thank you Malikos, your makroutes are very nice and seem to be delicious ...
XXXXXX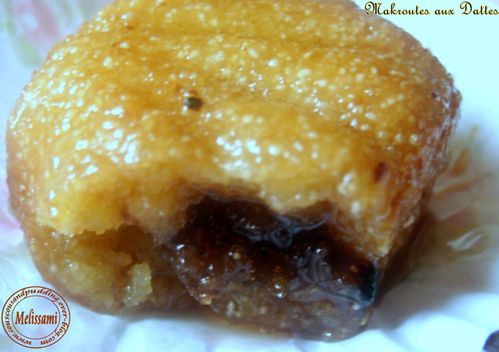 Ingredients:

1 kg semolina
250g of butter
Salt
3 packets of vanilla sugar (optional)
Date Paste
Cinnamon
Orange flower water
Warm water


Method:


In a bowl, mix the semolina, salt, vanilla and melted and cooled butter.

Mix well between your hands.

Allow a much time as possible to rest.

Then take a little bit of the mixture, moisten with warm water and orange flower water, to form a dough. DO NOT KNEAD.

Leave to rest

Form sausages of date paste mixed with cinnamon.

Take a ball of dough, put a sasage of dates in the middle and close. (look picture)

Place the makroudes mould on the surface, cut into lozenges.

Once all makrout are prepared, cook in a bath of hot oil until golden brown.

Immerse in warm honey.

We can sprinkle the makroutes with sesame seeds.