Makrout (oven baked) - Algerian semolina, dates and honey sweets
Pour la recette en Français cliquez ici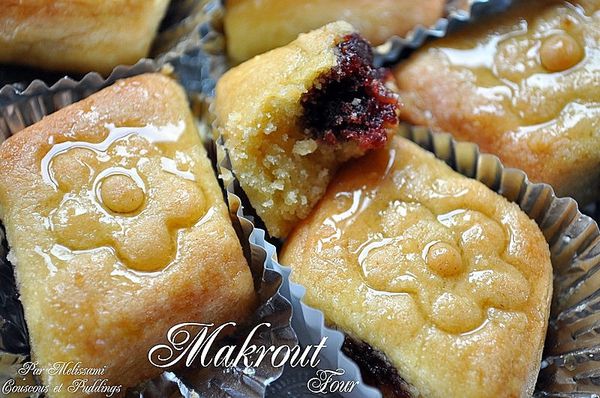 Ingredients:
3 cups fine semolina
A bowl of melted butter
1/2 tsp salt
Orange blossom water
Water
Filling:
500g dates paste
100g of toasted sesame seeds
2 tbsp of butter
Orange blossom water
1/2 tsp cinnamon
Oil
Plus
Honey,
orange flower water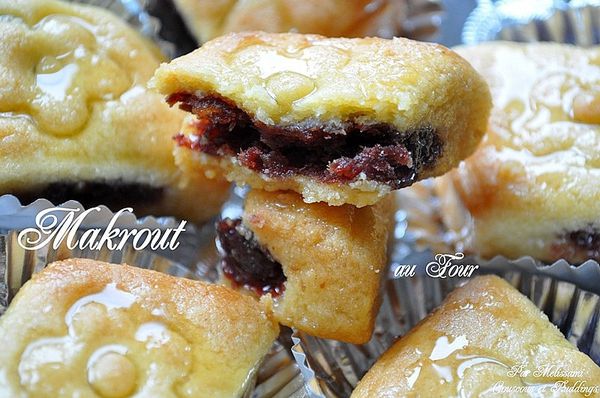 Methode of preparation:
-Melt the butter over a low heat and let to cool a bit.
-Sift the semolina and a pinch of salt in a large bowl
-Mix the semolina with the melted butter, rubbing with the palms of your hands. Let stand for at least one hour.
Slolwly moisten with orange blossom water without kneading the dough, until a soft dough neither dry or too wet forms. The amount of water used depends on the extent of absorption of semolina.
- Cover and let to stand a few minutes
- Meanwhile, mix the date paste with butter and orange blossom water and cinnamon, to a smooth consistency similar to that of the dough. Add the toasted sesame seeds. With oiled hands form a long log
Take one ball the size of an orange of the dough, make a sausage shape and dig a trench in the middle with your finger,
Place a log of date paste, shut it well by pinching the dough.
Roll again then flatten a bit with a special makrout mold or just decorate with a fork,
Using a knife cut diamonds
Place the makroutes side by side on a tray.
-Bake in preheated oven until a light golden color.
Let cool completely before removing from the tray
Immerse the makroutes in a heated honey mixed with some orange blossom .
Drain then sprinkle with sesame seeds if you want.