Pour la recette en Français cliquez ici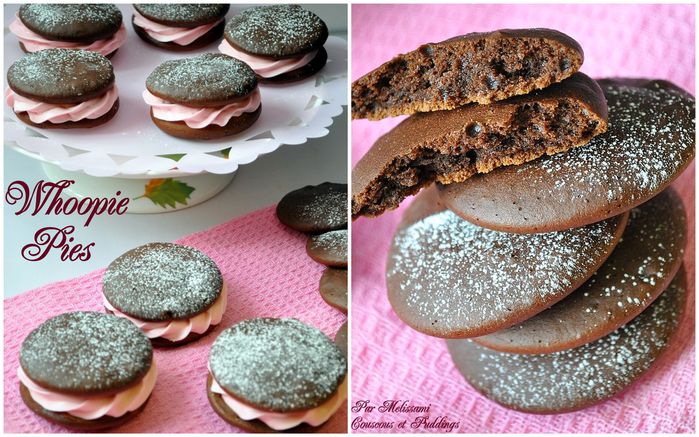 Ingredients:
250g flour
70g cocoa powder
1 1/4 tsp bicarbonate of soda
1/2 tsp salt
100g butter
160gdark muscovado sugar
1 egg
1 teaspoon vanilla extract
250-300ml buttermilk
For the buttercream:
140g butter
280g icing sugar
2 tsp vanilla extract
1-2 tbsp of milk
food coloring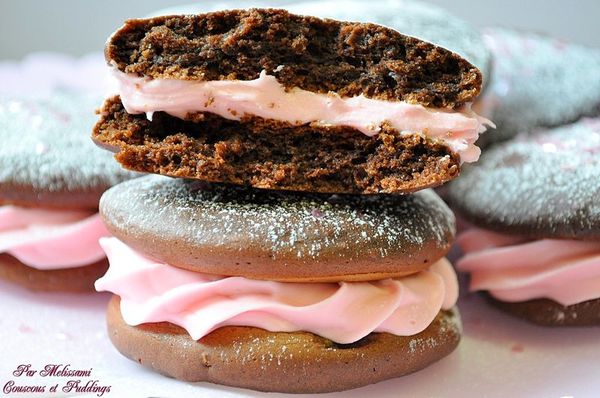 Method of preparation:
Whisk together the flour, cocoa, baking soda and salt until well combined.
In another bowl, cream the butter and sugar together until pale and fluffy using an electric hand whisk (about 3min).
Add the egg and mix well.
Add the vanilla extract and 250ml of buttermilk and beat until well combined.
Slowly, add half the dry ingredients and mix together then add the remaining mixture. if mixture is too dry add the remaining buttermilk.
Cook the Whoopie pies in a whoopie pie maker or place a tbsp of the mixture on a baking sheet lined with parchment and bake in a preheated oven 10 180 deg for about 10min.
For the buttercream: in a bowl beat the butter until creamy and smooth, add half the icing sugar and beat until smooth.
Stir in vanilla and remaining of the icing sugar and beat until smooth and creamy.
If the mixture is too stiff add a tbsp of mil until the desired texture is reached.
Spread a generous amount of the buttercream filling onto the flat side of one cake and then sandwich another cake on top.