Pour la recette en Français (cliquez ici)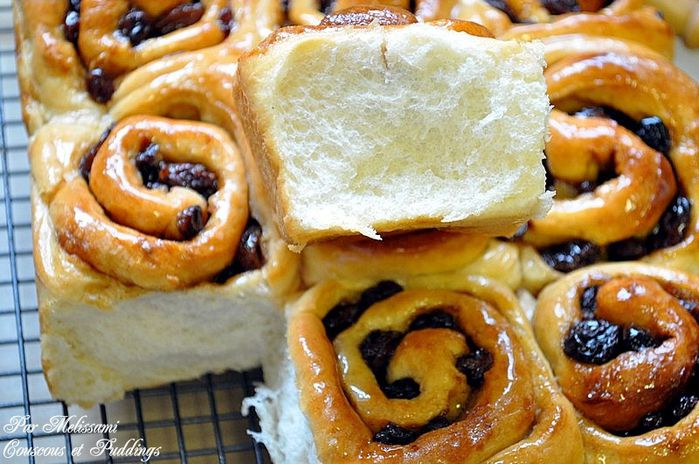 Sweet and sticky Chelsea buns, with a hint of spice, are an irresistible addition to a traditional afternoon tea.
Ingredients:
25g butter
225g strong white bread flour
1/2tsp salt
2 tsp dried yeast
1 teaspoon caster sugar
125ml milk at room temperature
1 egg, beaten
85g icing sugar
Filling:
55g light muscovado sugar
110g raisins or mixed dried fruits
1 tsp ground mixed spice or just cinnamon
50g butter

Method of preparation:
Sift the flour and salt into a bowl, stir in the yeast and sugar and rub in the butter
Combine milk and beaten egg and pout into the dry ingredients.
Knead until you have asoft dough.
Place the dough in a lightly oiled bowl, cover with oiled clingfilm and leave in a warm place for 1hr or until doubled in size.
Transfer the dough onto a lightly floured surface and knead for 1 min.
roll out into a a rectangle of about 30 * 23cm.
Mix the muscovado, raisins and the spices.
Brush the dough with butter, then sprinkle with the sugar mixture.
Roll up from a long side and cut 9 pieces.
Place the pieces in a greased 18cm square cake tin, cover with oiled clingfilm and leave in a warm place for 45min.
Bake the buns in a preheated oven 190C for about 30min.
Leave to cool in the pan for 10 minutes. then transfer to a wire rack.
Mix the icing sugar with a little water to make a thin glaze.
Brush over the buns and leave to set.