Braj or Bradj: Algerian semolina Sweets with Dates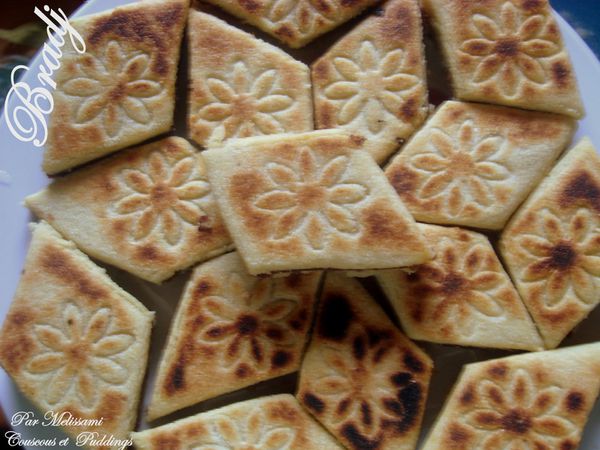 We already feel the spring with these beautiful sweets or semolina lozenges filled with dates. These cakes are also called Mbarja or mtakba in Algiers (but without dates).
XXXXX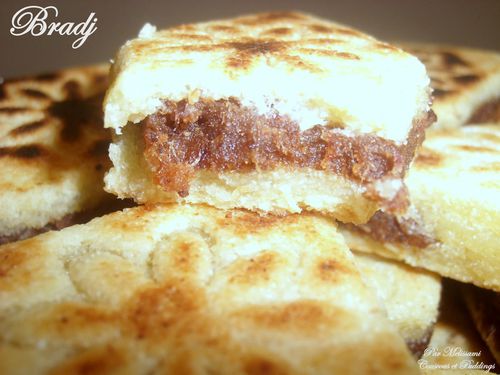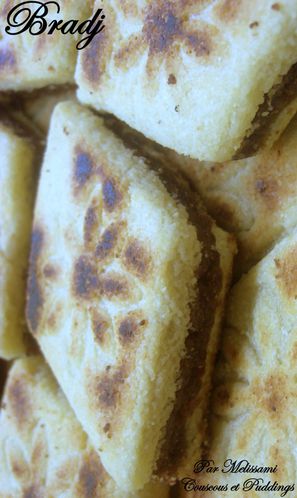 Ingredients:

- 1 kg of medium semolina


- 200g of butter


- Salt


- Water


- Orange blossom water



- Cinnamon


- Dates paste or elgherss



Method:



- Knead the date paste with a little oil, cinnamon and a little orange flower, until the dough becomes smooth and malleable.


- In a bowl, combine semolina, salt, melted butter, and mix very well, then add the orange blossom water.


Mix everything together and divide dough into two equal parts.


Flatten a ball of dough, then cover with the dates paste (which should be approximately 1 cm thick) and cover with the second ball of dough.



- Cut diamond and decorate (Optional..)


- Heat a non stick pan.


- Cook both sides until it is golden brown.



And here's a little video: how to prepare these cakes ???