Bouzelouf in sauce, Chtitha bouzalouf
Mutton Feet in sauce and how to clean the bouzalouf?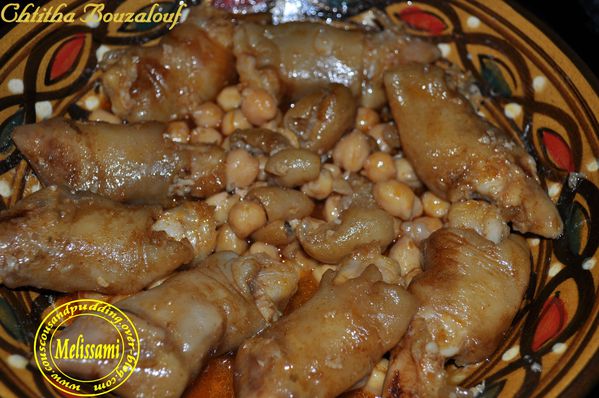 Here is another dish that we find on the Algerian tables the day of Eid el Adha (Eid Lakbir). I have prepared it with sheep's feet but it is prepared the same way with the sheep's head. I especially love it if it is spicy ......
XXXXX
Ingredients:

Sheep feet
1 head garlic
Red pepper, cumin
Salt and pepper
Hot pepper (optional)
1 handful chickpeas
3 tbsp of oil
1 bunch of parsley


Method:

How to Clean the bouzelouf:

Even if you buy the feet ready for your butcher, it is still necessary to clean them more. For me I have used my blowtorch to remove any remaining hair.
Wash them very well by rubbing with a cloth.
Prick with a knife, the part between the foot and the shoe and remove it.
Remove the 2 bumps on each foot.
Wash thoroughly in cold water.
Boil the feet until the meat comes off the bone. Do not discard the cooking water.
Cut each leg in half lengthwise and remove the meat from the large bone.


In a pot put the feet, add garlic and spices.
Add the oil and sauté.
Add 1 / 2 litre of water, and 2 ladles of the cooking water from the feet, chickpeas and leave to cook until the legs are cooked through.
Cook until the sauce reduces.