Bekbouka or Mutton's tripes in sauce
Bakbouka and how to clean the sheep's stomach?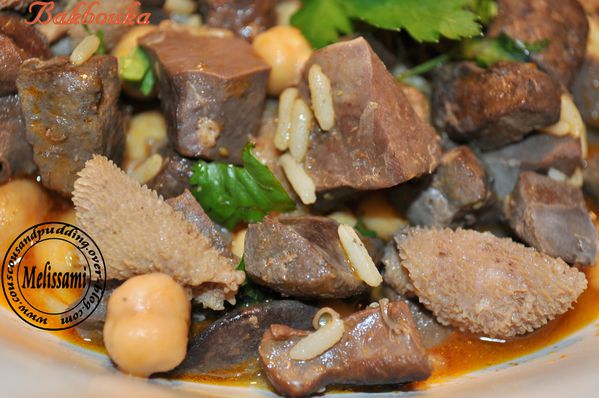 As promised here is my recipe of Bakbouka or mutton tripe in sauce. A dish that I prepare often and not just on the day of Eid el Adha. So this recipe that I learned from my mum consists of douara or the stomach, lungs, liver and heart of the sheep, with chickpeas and rice.
XXX

Ingredients:

Douara
Lungs
Liver
Heart
1 handful chickpeas
1 head garlic
3 dry chillies
Caraway, paprika, cinnamon
Salt and pepper
3 tbsp of oil
1 handful of rice

Method:

Clean the douara or the stomach:

Wash it in cold water.
Cut into 4 or 5 pieces with scissors.
Dip each piece (one at a time) in boiling water, remove promptly and using a knife scrape off the black cover up until the appearance of white flesh.
Wash and drain.
Cut into small pieces.

Wash the lungs, put them in boiling water for 20 minutes, remove and drain. Cut into small pieces with scissors.

Wash the liver and heart and cut into small cubes.

In a pan, put the Douara, lungs, liver and heart cut into small pieces.

Add garlic, dried chilli, spices and oil and sauté a few minutes.

Cover with water, add the chickpeas and cook.

At the end, add a handful of rice and cook.

Serve with coriander and parsley.