Algerian Tbikha or Tbiykhet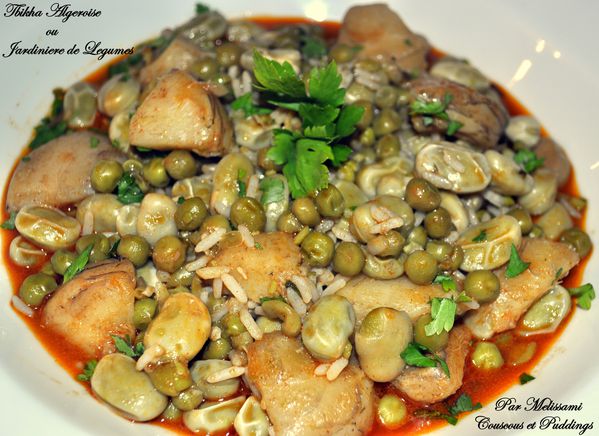 According to tradition this recipe is only made with two vegetables that are chosen as follows: peas and artichokes, or broad beans and artichokes, or peas and parsnips or green beans and courgettes. My mother has always prepared it this way with three vegetables, peas, broad beans and artichokes, and it is very nice.
XXXX

Ingredients:

500g peas

500g artichoke heart

500g broadbeans

1 bunch coriander

4 garlic cloves

salt, black pepper

Paprika
a handful of rice

4 tbsp of oil



Method:

In a pot, place the peas, artichoke hearts cut into 4, and broadbeans, add garlic, spices and chopped coriander.

Cover with water and cook.

When vegetables are almost cooked, add a handful of rice.

Leave on the heat for 10 minutes.

Serve with chopped coriander.