Algerian Sweets El Djouza or Walnut
Pour la recette en Francais, cliquez ICI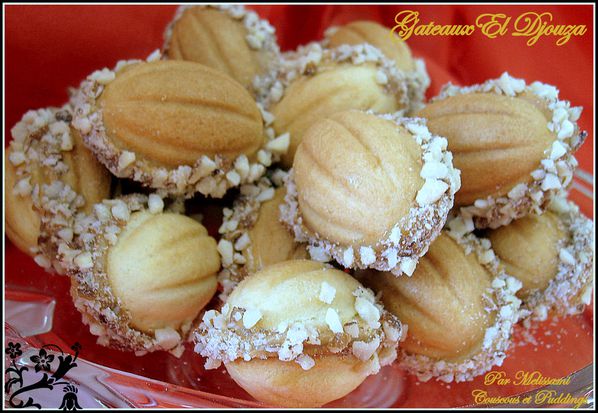 This is one of the Algerian sweet that I love, and during my last trip to Algiers, my sister in law gave me the special mould for it. I made these cakes on two occasions in the summer but I did not the opportunity to publish the recipe (I must now search in my computer for photos lol). My dear friend Malikos kindly has sent me some photos of her superb sweets but with a different filling than mine, that I can't wait to try.
XXXX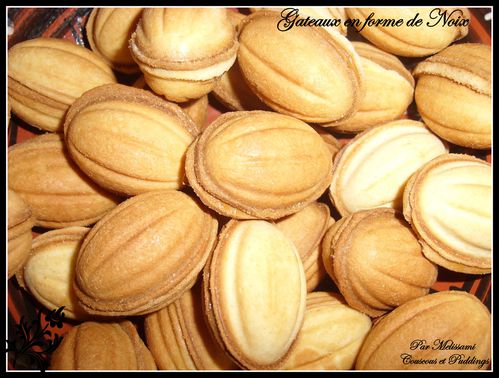 Ingredients:

Dough:

- 500g flour
- 250g butter
- 4 eggs
- 4 large spoons of caster sugar, or a glass of icing sugar (optional)
- 1 paquet of baking powder or 1 tsp
- 1 pinch of salt

Filling:

- A box of sweetened condensed milk
- 125 grams of walnuts or almonds



Method:

In a bowl, add the flour, sugar, salt, yeast and butter cut into small pieces.


Mix gently with your fingers and add the eggs to collect the ingredients well.



Divide the dough into small ball in the shape of an olive, put them in the interior of a special mold and cook. (In the manual mold special nuts and cook on the stove or in the electric mold).


For the filling:

Put the can of condensed milk in a pressure cooker, cover with water, cover and cook for 45 minutes, until milk is caramelized (thick). Open the box (let cool a bit before ..) and empty into a container.


Add either walnuts or almonds browned in the oven and chopped, or chocolate with crushed peanuts.



Fill half the nuts with this mixture, close with the other half to make a whole nut.