Samsa or Triangle with Almonds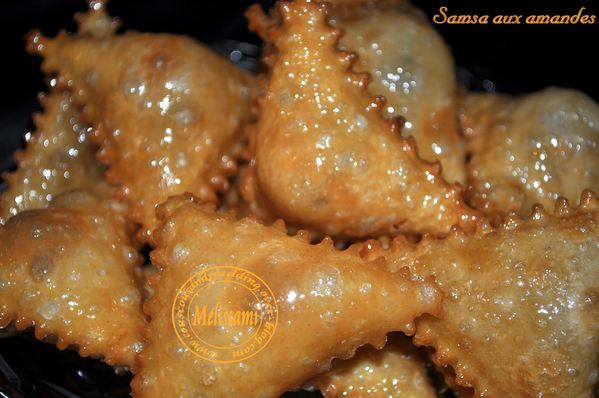 I try always to be organized but each time my memory plays tricks with me lol. I wanted to make an Algerian sweet with small flowers of different colours. I prepared the dough, I let it rest and then I looked in my cupboard for food colouring and I didn't find any. Oh no, I was too lazy to get out especially with the weather being cold right now. I left the dough in the fridge and at the end of the day I asked myself the famous question, what am I gonna do with this dough now?? I was tired and I didn't want to make a cake that would take me all evening so to save the dough from the freezer, I tried this samsa. And the result is magnificent, a delicious samsa that melts in the mouth and is also very easy to prepare especially if you have Samsa mold. After this successful test, I will prepare it every time that way.
XXXX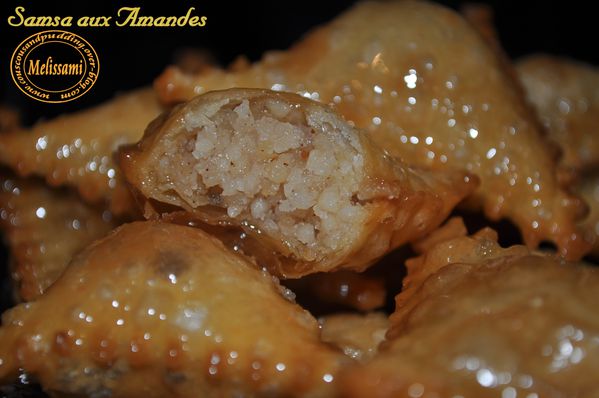 Ingredients:

3 cups of flour
1 / 2 cup of margarine (I usually use 1 / 4 to samsa)
1 pinch salt
1 / 2 to 1 part water +orange flower water

Filling:
2 cups ground almonds (for me I didn't grind them very fine)
1 cup granulated sugar
1 / 2 teaspoon cinnamon
Orange flower water


Method:

In a bowl, sift flour, make a well and add the melted and cooled margarine and a pinch of salt.

Rub well between your hands and then add water little by little until you get a smooth and soft dough
Let to rest.

Prepare the filling: Mix the almonds, sugar and cinnamon, moisten with orange blossom water until well blended.

Divide the dough in half.
Roll a half on a floured surface and place it on the samsa mold.
Put one teaspoon filling in the center of each triangle.
Roll the 2nd dough then place it on the filling.
Press with a rolling pin.
Fry the triangles in hot oil.
Drain and dip in honey.