Algerian sweet Gazelle's hornes with Honey
Tcharak or Tcherek with honey تشاراك معسل
With the approach of Eid el-Adha, Eid el Kbir, I share again with you today this cake tcharak or gazelle's hornes or almond's croissant with honey. I have made it twice, once with margarine and the second with butter as many visitors ask me the question what if I put the margarine instead of butter??, well I tried it for you and the result is delicious in both cases and as I have made it for the first time I have played a bit with the dough and I tried different shapes.. lol
XXXX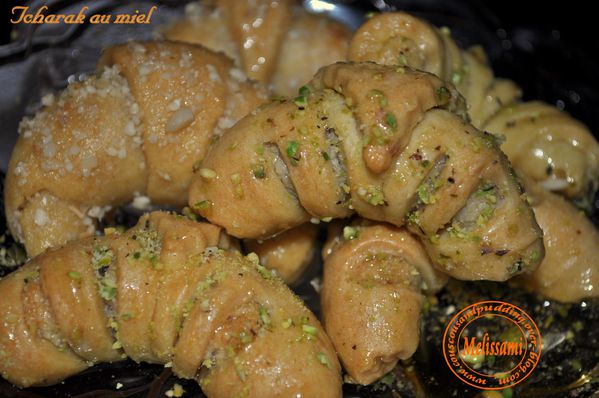 Ingredients:

3 cups of flour
1 cup of butter or margarine, melted and cooled
1 tbsp of icing sugar
1 tbsp of baking powder
1 tbsp of vanilla extract
1 egg
Mixture of water +orange flower water

The stuffing:

2 cups almonds
1 cup sugar
1 tbsp of vanilla extract

Orange flower water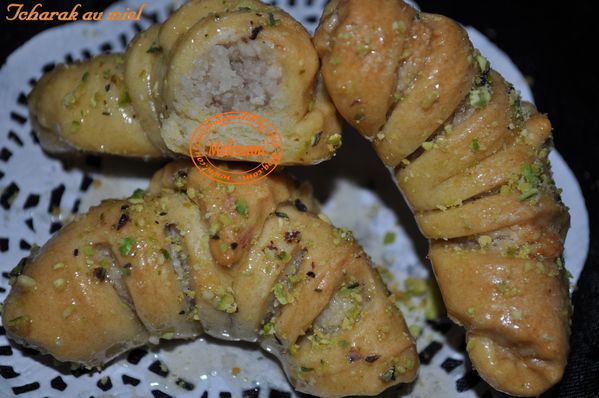 Method:

Sift the flour, make a well and add the egg, a pinch of salt, baking powder, sugar, vanilla and margarine, rub between hands then add water little by little until you have a smooth and soft dough.

Cover and let to stand.

Prepare the filling: Combine sugar, almonds and pour the orange blossom water until a homogeneous mixture

Roll out the dough on a floured surface.

Cut triangles using a triangular cutter. Leave as they are or cut strips in the middle (as shown in photos).

Put a roll of the filling in the center and roll.

Bake in a moderate oven until the cakes have a golden color.

Let cool, then dip them in honey.

Sprinkle with crushed pistachios or almonds