Roast Pepper Quiche with Mozzarella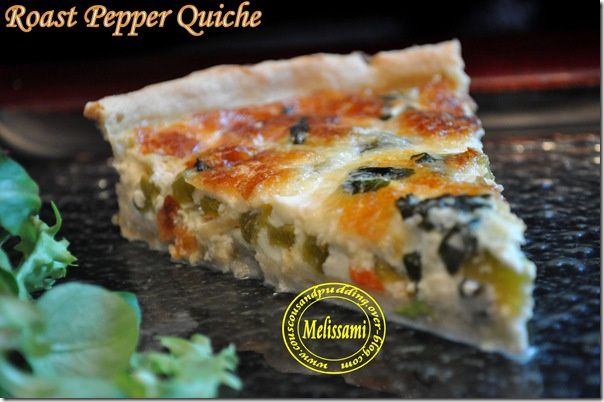 We love quiches in my family, served with salad they make a very nice and light lunch. This quiche tastes truly delicious. Using different colour peppers and adding pitted green olives to the pastry makes this quiche appealing to both the eye and the palate. The flavour of roasted peppers with mozzarella and basil gives it a wow factor. For more ideas of delicious and tasty quiches visit the category Savoury pies (Recipes here).
XXXXX
Ingredients:
Pastry:
175g plain flour
75g butter
pinch of salt
2tbs green pitted olives
3 tbsp cold water
Filling
1 red pepper
1 green pepper
1 yellow pepper
2 garlic cloves
2 tbsp olive oil
100g grated mozzarella cheese
2 eggs
150ml milk
1tbsp basil
Salt and pepper
Method:
Pastry:
Sift the flour and salt into a bowl. rub in the butter until the mixture resembles breadcrumbs.
Add the chopped olives and cold water. bringing the mixture together to forms a dough.
Roll the dough out on a floured surface. line a quiche tin. prick the base with a fork and leave to chill.
Filling:
Cut the peppers in half lengthways and place them on a baking tray.
Mix the garlic and oil and brush over the peppers.
Cook in a preheated oven 200C/GM6 for 20min.
Cut the peppers thinly.
Arrange the sliced peppers in the base of the pastry case, layering with the grated mozzarella cheese.
Beat the egg and milk together and add the basil. season and pour over the peppers.
Cook in the oven for 20min or until set.
Serve hot or cold.