Lamb Liver in Sauce, Kebda Mchermla
Lamb Liver in Sauce -- Kebda Mchermla --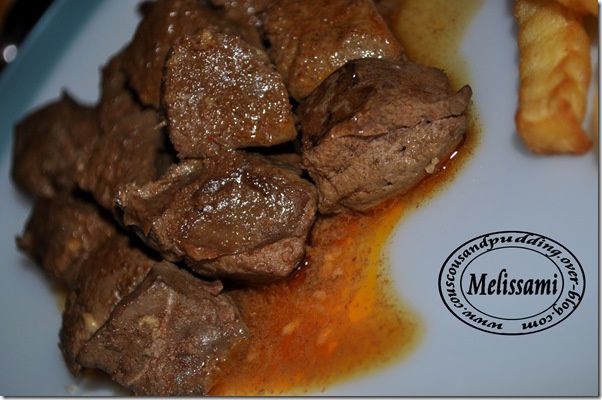 Hello,
Every time I buy lambs liver, I prepare it either this way (in sauce with caraway) or grilled and I serve both with fries or mashed potatoes. That's how we like the lambs liver at home. lol. This is also the way my mum prepares it at each Eid El Adha (Eid Lakbir). For this recipe I've also added half of the lamb heart and it was very tasty.
XXX

Ingredients:

1 lamb liver (lamb for me)
1 / 2 lamb heart
4 garlic grouse
1 tsp caraway
1 tsp red pepper
Salt, black pepper
1 teaspoon vinegar

Method:

Mix the crushed garlic with the spices and a little water.
Fry this mixture in 4 tbsp of oil.
Cut the liver into small pieces.
Put the pieces of liver in the sauce and cook over low heat.
Drizzle with vinegar and remove from heat immediately.