Bridge Rolls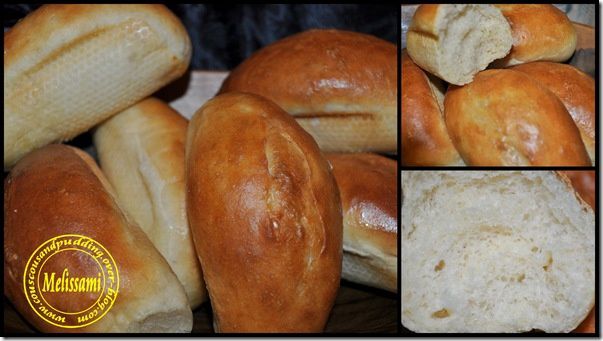 For this Saturday morning I suggest this very very very very light bread that is very easy to make with a bread machine. These Rolls are ideal for holding filling for buffet parties, a picnic or in the lunch box. I make this bread on a regular basis but I never get time to shape it properly (who cares about the shape when it tastes so nice), and because it tastes so good I never get some left over to take pictures lol. If you are planning a picnic this weekend, you are the one who takes sandwiches to work or maybe for the kids to take to school, this is the ideal bread for you….
XXX
Ingredients: (1cup=250ml)
1 egg
3/4 cup milk warmed (21-28C)
1 tbsp butter, melted
1 tsp caster sugar
1/2 tsp salt
2 cups white bread flour
1 tsp yeast
To finish
Little milk for brushing over
Method:
Whisk the egg and milk together, then place in the bucket of your bread machine in the order they are listed. Set the programme to dough.
When the dough is ready transfer it to a floured surface.
Divide the dough into 15 small elongated-oval shapes. (The dough is very sticky, flour your hands when doing it).
Place the pieces on a greased baking tray.
Cover with an oiled cling film and leave to rise and almost double in volume.
Lightly brush the top with some milk.
Bake in a preheated oven 220C/GM7 for 15 –20min or until they are golden.