Potato & Spinach Gnocchi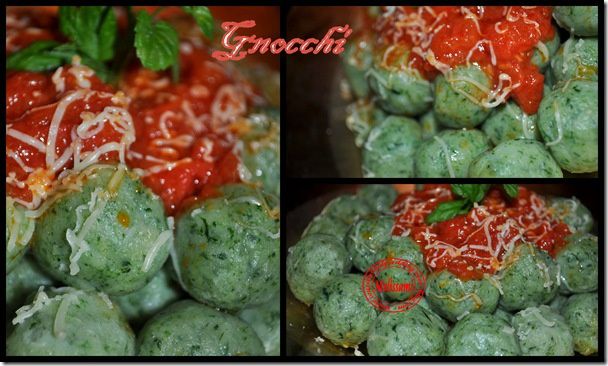 Once again it's the Italians who are so cleaver at inventing such simple things out of what seem to be fairly ordinary ingredients but then become something quiet outstanding. Thus it is with gnocchi, little dumplings made from potatoes, flour and egg. Not very exciting, you might think, gnocchi have a texture and flavour of their own which can absorb and complement other flavours. These small potato dumplings are flavoured with spinach, cooked in boiling water and served with a simple tomato sauce. A very tasty dish which can be served as appetizer but, served with a salad and bread, Foccacia for me (recipe here), they make a substantial main course. However, try not to handle the mixture too much when making gnocchi, as this will make the dough a little heavy.
XXXX
Ingredients:
350g potatoes
180g spinach
1 egg yolk
1tsp olive oil
Flour (100-150g)
Salt and pepper
Tomato sauce
Methode:
Cook the potatoes in boiling water, drain and mash
Make the tomato sauce
Cook the spinach. Drain and shred the leaves
In a bowl, mix the flour, egg yolk, olive oil and spinach.
Add a little buy little flour until you have a firm dough. Do not handle it too much.
Divide into small dumplings.
Cook in patches, in a saucepan of boiling salted water for about 5 min or until they rise to the surface.
Drain and serve with the tomato sauce and sprinkle with some cheese