Mini Foccacia -- The Best Ever Recipe --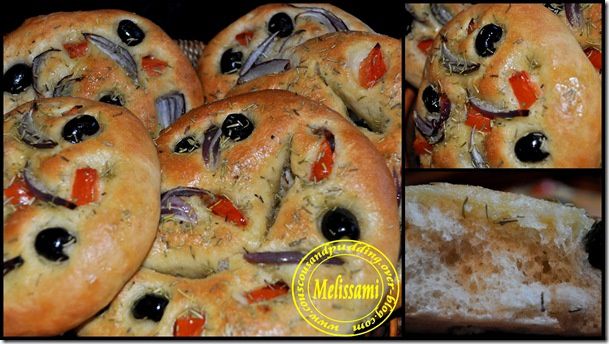 Foccacia or Fougasse is Italy's renowned flat bread, peasant in character, sublime when eaten over-fresh and warm with olives, red onion, tomatoes and rosemary and drizzled with a very good virgin olive oil (important). It is traditionally made on a large baking tray and cut into squares. It may be topped with onion, cheese and meat, or flavoured with a number of vegetables, sage and salted with coarse salt. I've made it using different recipes but this one is the best one and I won't be looking for another one,,lol..Try it and you will love it….
XXX
Ingredients:
275ml water
2tbsp olive oil (good quality)
450g strong white bread flour
1 + 1/2 tsp salt
2 tsp caster sugar
7g (1 sachet) fast acting dried yeast
Fine polenta or semolina
Rosemary (dried for me)
Methode:
In the bread maker bucket, pour the water, oil, add half the flour.
Sprinkle with the salt and sugar.
Cover with the remaining flour, add the yeast. Set to the dough programme.
When the programme finishes, remove the dough from the bucket and knead it on a floured surface for 1 min.
Shape into 5 small circles and put on a well oiled tray.
Sprinkle with fine polenta or semolina.
Cover with an oiled Clingfilm and leave to rise until doubled in size (1 hr).
Dimple the surface quiet deeply all over with your fingertips, gently drizzle olive oil into the holes and press some olives, tomatoes and red onion.
Sprinkle with rosemary.
Bake in a preheated oven 190C/ GM7 for 15 min or until golden brown.
Drizzle with a little extra olive oil and enjoy..