Mascarpone Mousse with Berries
Mascarpone Mousse with Berries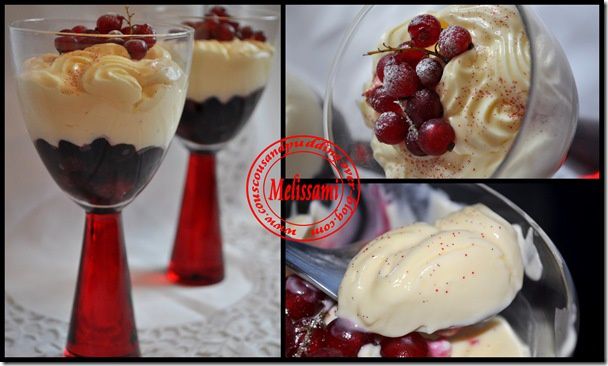 Yes another fast and easy to make dessert lol. Mascarpone mousse with berries and berries coulis. A sweet cream cheese dessert that complements the tartness of fresh summer fruits rather well. A real delicous treat…
Have a nice day..
XXX
Ingredients:
225g mascarpone cheese
55-65g caster sugar (to taste)
2 egg yolks
summer fruits (for me blackberries, raspberries and redcurrants)
Fruits coulis: made with some of the fruits and sugar.
Method:
In a mixing bowl, beat the mascarpone until quite smooth.
Stir in the egg yolks and sugar. Mix well. leave in the refrigerator for 1 hr.
Serve a spoon or two of the fruit + fruit coulis into the bottom of your serving dishes.
Spoon over some mascarpone mousse.
Leave to chill in the refrigerator for about 30min.
Thanks for your visit and if you like my recipes remember to subscribe to my Newsletter…