Grape and Apple Jam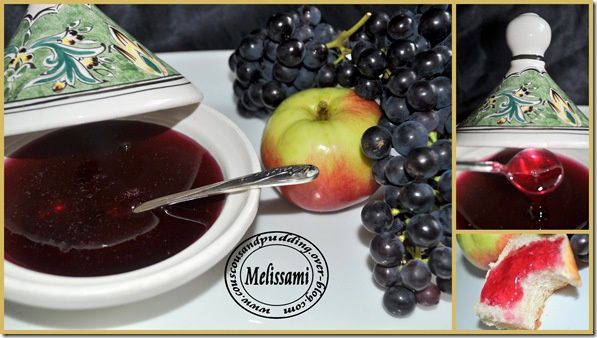 After my blackberry jam (recipe here), published photos of my garden and my vine that gave me loads of grapes this year and my apple tree that gave me a lot of apples, I decided to try to make jam with these. I tried two methods to prepare this jam, the first is to cook the grapes and apples together but at the end I found myself with grape jam, apple and pips,, lol ... but I do not like pips in my jam, so I prepared it another way where i got rid of the grapes pips before adding the apples and sugar, the result was superb. A very good jam (or rather half jam half jelly) of seedless grapes and apples,, lol ... for the next version of this jam I will try to remove the pips of the grapes before cooking I know it's going to be long but nothing ventured nothing gained lol.
XXX
Ingredients
1.2-1.5 kg of grapes (the weight must be 1 kg after getting rid of the pips)
500g apples
500g sugar
1 case of lemon juice

Method:

In a copper pot, place the grapes and half glass of water over a low heat for 30-45 min.
Crush the grapes in a colander to get rid of the pips. (1 kg)
Add the sugar and grated apple and lemon juice.
Let simmer 30-40 minutes stirring and skim regularly. Or add a knob of butter and then the foam will resolve itself.
Test the jam by dropping a few drops on a spoon put in the freezer if you tilt the spoon and the jam freeze immediately and do not run then jam is ready.
Fill sterilized jars with jam.