Classic British Fish and Chips
Classic British Fish and Chips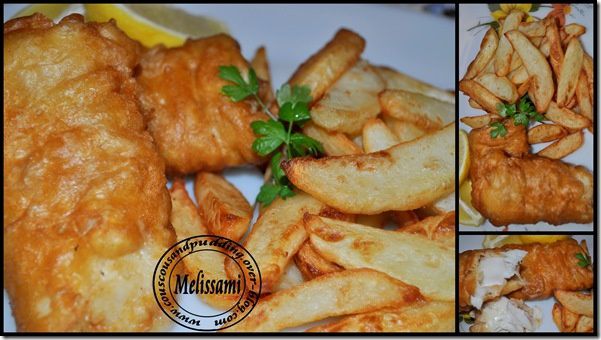 Today I share with you this Classic recipe for British Fish and Chips, traditionally Fish and chips is served in a piece of newspaper. The key to successful a fish and chips is a crispy batter. I like this recipe because you end up with a really nice crispy batter but I don't make it a lot as I live not far from one of the top 10 Fish and Chip shops in Britain and you can't pass the shop without buying their fish and chips because of the lovely smell.
XXX
Ingredients:
4 cod fillets
Potatoes for chips
Flour
Oil
Batter:
4 tbsp flour
1 tsp bicarbonate of Soda
100ml cold water
Juice of 1 lemon
Salt and Pepper
Method:
Make the batter: mix the flour with bicarbonate of soda, whisk in the water to make a smooth batter. Stir in the lemon juice. Season
Dust the cod in a little flour. shake off any excess.
Dip the dusted cod into the batter, shaking off any excess.
Deep fry the cod in hot oil until the batter is golden and the fish is cooked.
drain.
Serve with chips and lemon wedges.