Strawberry and redcurrant Filo Tartlets
Strawberry and redcurrant Filo Tartlets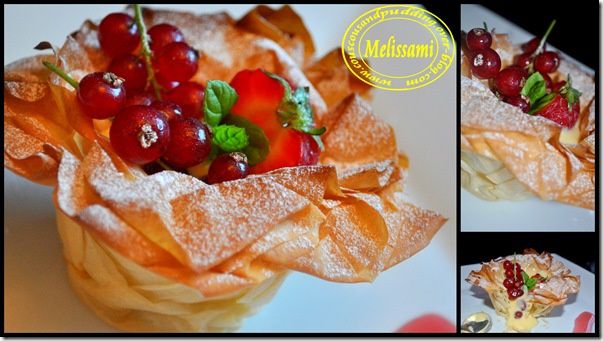 These simple tartlets are very easy and quick to make, they are very tasty and look very attractive...I make them every time I've got some filo pastry and left over custard. But I have made them as well with double cream and fromage frais and the result was very yummy…. You can use any fruit you like….
XXX
Ingredients:
Filo pastry
Melted butter
Filling:
custard
or
150ml double cream
150g strawberry fromage frais
1 tbsp icing sugar
Strawberries
Redcurrants
Method:
Cut the filo pastry into small squares.
Brush four squares of the filo pastry with a little melted butter.
Stack them in four then place in a tartlet tin.
Bake in a preheated oven 190C for 15 min or until golden.
Let to cool.
Fill the tartlets with custard and diced fresh fruit
or
Whip the double cream to a soft peak, then lightly fold in the fromage frais and icing sugar and then add some diced fresh fruits.
Decorate with strawberry and redcurrant and dust with icing sugar.