Walnut and Almonds Cakes M'chekel or M'chekla
Walnut and Almonds Cakes
-- M'chekel or M'chekla--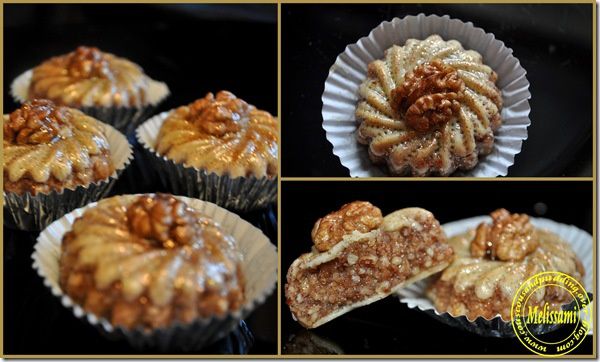 M'chekel or M'chekla with walnuts and almonds that is what I present to you today and what I had prepared for Eid. You can prepare them with a different stuffing (hazelnuts), or pinching and cutting them in different shapes.
XXX

Ingredients

3 measures of flour
1 measure of butter
A pinch of salt
Mix of water with orange flower water

Stuffing:
1 measure of walnut
1 measure of non-blanched almonds
1 measure sugar
Egg whites

Honey

Method:

Mix flour with salt, make a hole and add the melted butter. Mix
Add the mixture of water and orange flower water little by little until the dough is smooth and soft.
Divide dough in two and set aside.
Prepare the filling: Mix almonds, ground walnut and sugar, add egg whites one by one until a soft but not too firm dough forms.
Roll out the 1st dough thinly on a floured surface.
Spread a layer of stuffing.
Cover the stuffing with the 2nd dough.
Cut out circles with a cookies cutter.
Prick the centre with half walnut
Decorate the entire surface of the cake with a crimper.
Let to rest a bit before baking.
Bake in a moderate oven.
Dip in Honey