Clover Shaped Sweets with Almonds -- Arayaches --
Clover Shaped Sweets with Almonds
-- Arayaches --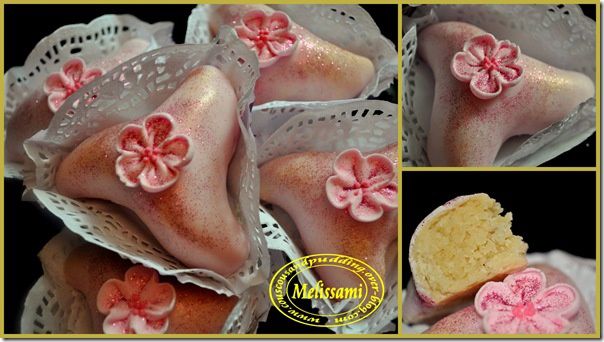 Another classic Algerian Almond cake. Arayechs or Clovers with almonds that you can decorate any way you like, with silver beads, small flowers of different colours, different designs, etc., for me I prefer them classic and easy.
XXX

Ingredients

3 cups of flour
1 cup melted ghee
3 tbsp sugar
orange flower water + water

Stuffing:
2 cups almonds
1 cup sugar
1/2 tsp cinnamon
Orange flower water

Icing: Recipe here

Method:

In a bowl, sift flour, add salt and sugar. Make a fountain pour the melted ghee.
Pour the water mixture gently until the dough is smooth and soft.

Prepare the stuffing: Mix the almonds with sugar, cinnamon and add some orange blossom water until the mixture becomes soft and smooth.

Roll up the dough, cut circles, put the stuffing in the middle T-shaped, Bring the edges toward the centre and work the dough so as to have a clover.

Bake in preheated oven until lightly browned. Cool.

Prepare the frosting

Dip the cakes in the icing. decorate. Let to dry.
Thanks for your visit and if you like my recipes don't forget to subscribe to my Newsletter….