Gazelle's Hornes -- Tcharak Msaker --
Gazelle's Hornes -- Tcharek Msaker --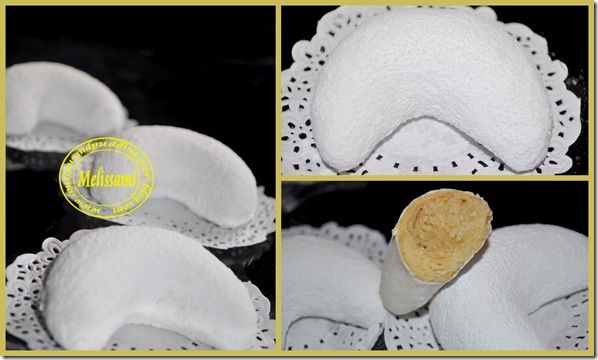 Today I share with you a classic Algerian cake, tcharek msaker or horns of the gazelles, a crescent shaped almond cake coated with icing sugar that melts in your mouth, unfortunately you can not see that on a photo lol. Besides the ARAYACH (recipe coming soon) this cake is always present on my EID table (AID).
XXX

Ingredients:

4 cups of flour
1 cup ghee
2 tbsp of orange flower water
2 tbsp of icing sugar
1 cup cold water
1 tbsp vanilla

Filling:
2 cups ground almonds
1 cup of icing sugar
1 / 2 tsp cinnamon
Orange flower water

Syrup (recipe here)
Icing sugar

Method:

Sift the flour into a bowl, add salt, sugar, make a hole and pour the cooled melted ghee.
Sand well between the hands.
Add water and orange flower water little by little while kneading until the dough is smooth and soft.
Divide the dough into small balls and let to rest.

Prepare the stuffing:
Combine almonds, sugar, cinnamon and add orange flower water little by little . (should not be too hard).
Roll the pastry. Cut into circles using a cutter (to be all the same).
Place a sausage stuffing on the end toward you.
Close and seal the ends well and form a crescent.
Bake in preheated oven until golden brown GM5. Let to Cool.
Prepare the syrup and add the orange flower water. Cool
Dip each cake into the syrup, drain.
Sprinkle the cake with sifted icing sugar, press lightly with the palm of your hand.
Repeat the process a 2nd time. The cakes must be smooth and uniform.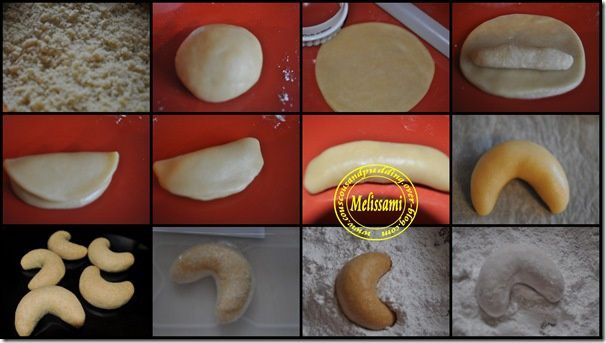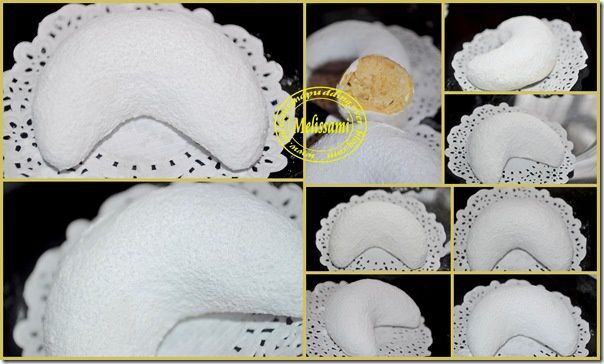 Thanks for your visit and if you like my recipes don't forget to subscribe to my Newsletter…