EID Flower - Coconut Coated Biscuits -
EID Flower
Coconut Coated Biscuits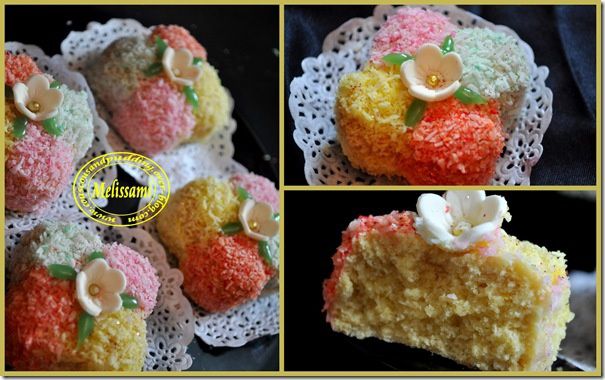 As promised here is the recipe for my EID flower, a simple biscuit, but very nice, soft and melts in the mouth. The cake is made with flour and boiled grated egg yolks (do not say YUCK because you will not taste them lol), I also added some coconut to the pastry ( you don't have to add this). For the decoration, I had the biscuits in my hands , I had prepared icing (which I had used for another recipe to come), chocolate, and coconut, and wasn't sure what to use. Then my friend Djouza called me on the phone and we discussed the deco of this poor biscuit, I just wanted to give it some value so that it would find a place on my EID table lol and this flower was born.
XXX

Ingredients

250g butter
1 cup sugar
4 boiled egg yolk
1 cup (slightly less) cornstarch
1 tsp baking powder
1 tbsp vanilla sugar
1 to 2 tbsp of coconut (to taste)
Flour

Method:

Mix the butter and sugar.
Add the grated egg yolks and cornstarch and the coconut.
Add the baking powder and gradually the flour until the dough gathers into a ball, smooth, soft and definitely not too firm.
Roll out the dough on a lightly flour.
Cut the biscuits with a cookie cutter. The desired shape
Bake in preheated oven for GM5 20/25 min or until they are cooked.
But remember that many cakes that harden after baking are the cakes which are not cooked properly.

Let to cool.
The deco:
I used four colours so I divided my coconut into 4 bags which I added food coloring.
Brush the cakes with jam or syrup or egg white.
Coat with coconut.
Thanks for your visit and if you like my recipes don't forget to subscribe to my Newsletter…