Maamoul with Dates Manal Al Alem
Maamoul with Dates -- Manal Al ALem --
معمول التمر - منال العالم -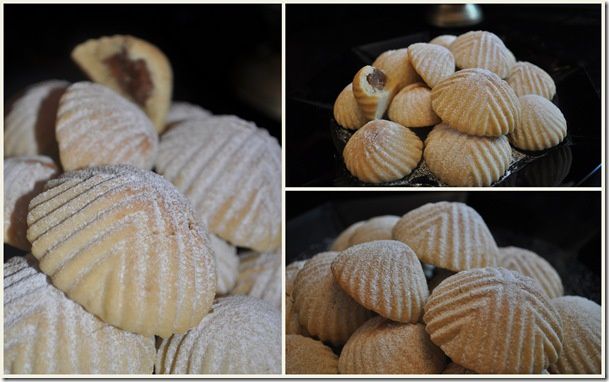 Hello
Today I share with you a recipe of Manal Al Alem, an easy and quick maamoul with flour rather than semolina as traditional maamoul. The maamoul comes from the Middle East, but it is now widely found in Algeria. The maamoul can be stuffed with dates, pistachios or any dried fruit. My dates balls are moderately large because I love dates and I like to taste them as soon as I start eating a maamoul.
Have a nice day
xxx

Ingredients

2 1 / 4 cups flour
1 tsp baking powder
1 / 2 cup icing sugar
1 / 2 glass butter
1 / 4 glass ghee (smen)
1 egg
1 tbsp Vanilla extract
A pinch of salt
Dates paste
Orange flower water
Cinnamon

Method:

Beat butter and sugar and the ghee, add pinch of salt.
Add egg and vanilla and continue beating for a few seconds.
Add flour and baking powder, and form a ball.
Prepare the stuffing, mix the dates with a few drops of orange flower water and cinnamon. Add few drops of oil if you desire.
Shape into small ball, then insert a small ball of date. Close and roll into a ball.
Put the ball in the mold of maamoul. Press lightly and hit for the cake comes out.
Place on baking sheet and bake in oven 180C for 15-20min.
Place the cakes under the grill for a nice golden color.
Cool, then sprinkle with icing sugar.
Thanks for your visit and if you like my recipes don't forget to subscribe to my Newsletter…