Milk Rolls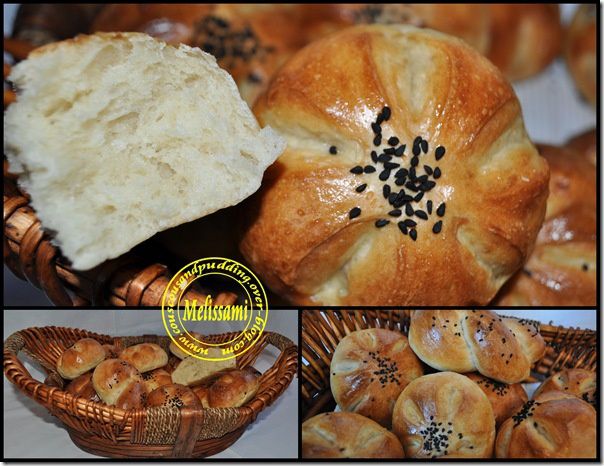 Hello,
After my 1st successful attempt in making bread by hand (Algerian Bread), I've decided to put my bread machine away for a bit and make more bread by hand. I've tried this bread and I am not at all disappointed. lol. This bread is very light and an airy loaf, very nice to accompany your meal, as a sandwich or just on it's own. Try it and you won't be disappointed.
xxxx
Ingredients:
750 strong white flour
60g butter
2 tbsp salt
7g fast action dried yeast
450ml tepid milk
1 egg
Poppy seeds
Method:
Sift the flour into a large bowl.
Rub in the butter, stir in the salt, ten the yeast.
Make a well in the centre and pour in the milk.
Knead the dough until smooth.
Place in a bowl, cover with oiled cling film and leave to rise (1-1 1/2 hr) or until double in size.
Knead the dough for 3 min on a lightly floured surface.
Divide the dough into balls or shape as required.
Arrange the rolls on a lightly oiled baking tray, cover with an oiled cling film and leave to rise for 20min or until double in size.
Brush the rolls with beaten egg, sprinkle with poppy seeds and bake in preheated oven GM 8 / 230C for about 15 min.