Pear Dumplings with Figs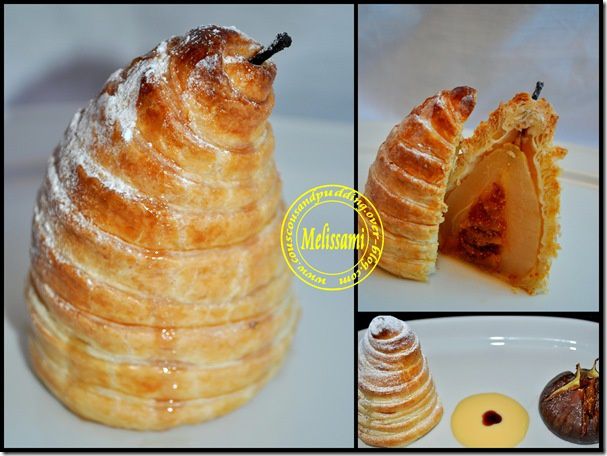 Hello,
To make a change from the main courses that I've been sharing with you lately, today I present to you this nice dessert with both dried and fresh figs. The pears have been stuffed with dried figs and covered with puff pastry. The fresh figs were baked in the oven with rose water, honey and a dot of butter. Both were dusted with icing sugar and served with custard. Delicious
XXX
Ingredients:
100g dried figs
1 large orange
4 firm pears
puff pastry
1 egg
Method:
Put the figs in a saucepan with the orange rind and juice. Cover and simmer gently for 5min. Leave to cool.
Peel the pears and take out the cores via the bases.
Trim off the bases so that they stand upright.
Spoon the mixture into the core cavity and press down firmly.
Roll the pastry on a lightly floured surface.
Cut square and put under the base of the pear.
Brush the remaining pastry with beaten egg, then cut into long strips.
Wind the strips around each pear.
Bake in a preheated oven at GM6 200C for 15-20min or until golden brown.
Dust with icing sugar and serve hot with custard.