Stuffed Artichokes -- ضولمة قرنون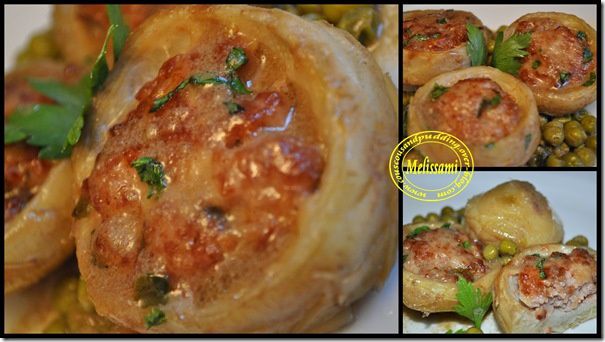 Today I share with you my dinner from last night, artichokes stuffed with meat and béchamel sauce. These were fried and then cooked in a sauce with meat and peas. I cook this dish a lot because I love artichokes but I'd never fried them before dipping them into the sauce and I can tell you that I'll do it this way every time from now on because it was delicious. You can also stuff the artichokes with mashed potatoes mixed with béchamel instead of minced meat. For me I used half cooked artichokes.
xxxx

Ingredients:

500gr meat cut into pieces
A handful of peas
1kg Artichoke
250g minced meat
1 onion
Béchamel sauce
Parsley
Flour
Salt, black pepper, cinnamon

Method:

In a pan fry the meat with the chopped onion for 10 min.

Season. Cover with water and cook for 30min.

Prepare the filling: Mix the minced meat with 2 tbsp of thick béchamel sauce. Season.

Stuff the artichoke hearts with a little filling, cover the stuffing with flour then fry in hot oil. Drain.

Place stuffed artichokes in the sauce, add the peas and simmer until it is cooked and the sauce is reduced.

Serve with lemon juice and minced parsley.
Thanks for your visit and if you like my recipes don't forget to subscribe to my Newsletter…