Minced meat Fritters or Maakouda in Sauce
Minced meat Fritters or Maakouda in Sauce
El Mbattane المبطن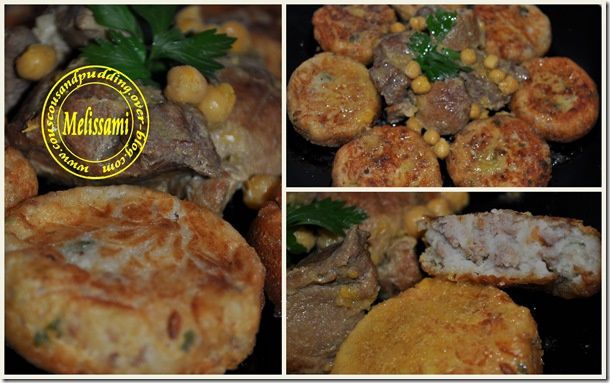 Hello
During the month of Ramadan, I love everything that is croquettes, fritters or maakouda (cauliflower fritters recipe here), I was going to prepare an Hachis Parmentier for yesterday's dinner but I thought it will be too dry for dinner so without hesitation I prepared this very appetising dish . You will say oh more kilos, but hey I will move on strict diet, grilled meat and steamed vegetables after Ramadhan, lol
Have a Good weekend
xxx

Ingredients

500g meat cut into pieces
2 onions
One handful of chickpeas
400g minced meat
Potatoes
Parsley
1 egg
Flour
Oil
Salt, black pepper, cinnamon, saffron

Method:

Fry the pieces of meat with 2 tbsp of oil and one grated onion. Season.

Add 1/2l water and the chickpeas then cook until the sauce is reduced.

Prepare mashed potatoes.

Sauté the minced meat with the other onion in 1 tbsp oil. leave to cook.

Mix the minced meat with the mashed potatoes (2 parts meat to 1 part mashed), add the parsley and egg. Season.

Shape into small balls, roll in flour and flatten into fritters.

Cook the fritters in hot oil. Drain.

To serve arrange the meat and chickpeas on a plate, place the fritters and drizzle with sauce.

Serve with lemon juice.
Thanks for your visit and if you like my recipes don't forget to subscribe to my newsletter…