Chicken and Cheese Terrine -- Tajine el Djben --
Chicken and Cheese Terrine
-- Tajine el Djben -- طاجين الجبن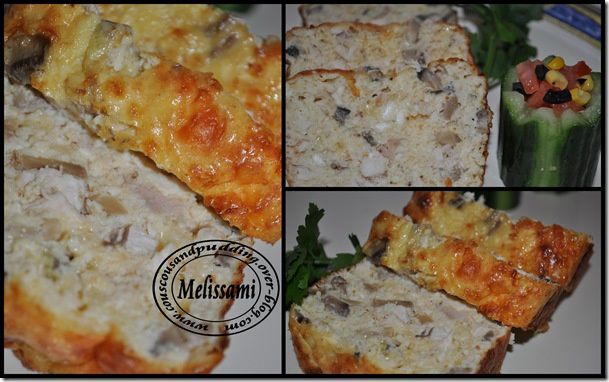 Hello,
On the menu the day before yesterday I had a roast chicken accompanied by sautéed potatoes and green beans. Yesterday I prepared this dish with the remaining chicken (mainly breast), a very light and delicious terrine with salad. We can add olives or any soft cheese or we can even pour the mixture on a shortcrust pastry base and bake to create a chicken quiche.
Bon Appétit
xxxx

Ingredients

Chicken breast
2 tbsp bread crumbs
6 eggs
5 tbsp single cream
1 small can mushrooms
4 tbsp of goat cheese (white cheese)
100g grated cheese
Salt, black pepper, cinnamon
1 tsp Baking powder

Method:

Sauté the mushrooms in 2 tbsp of butter.
Crumble the chicken.
In a large bowl, combine the chicken, grated cheese, goat cheese, eggs and the remaining ingredients. Season
Pour the mixture into an well buttered ovenproof dish.
Sprinkle with a little grated cheese.
Bake in a moderate oven until golden brown.