Chicken and Meatballs Soup -- Chorba Beida --
Chicken and Meatballs Soup
Chorba Beida - شوربة بيضاء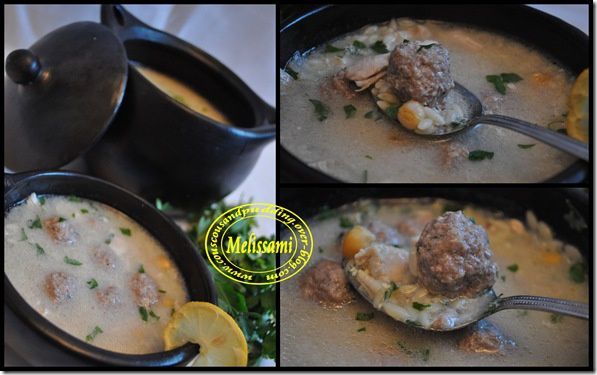 My Chorba has changed colour lol. A nice and light white Chorba to start a ramadhan meal. I like my chorba with langue d'oiseaux pasta but it is also good with angel hair or rice.

Saha Ftourkoum
Ingredients
500g chicken
250g minced meat
1 onion
A handful of chickpeas
1 tbsp of oil
A tea cup of pasta
Salt, black pepper, cinnamon
Parsley
1 egg + 1 egg yolk
1 lemon
Method:

Put chicken pieces in a pot, grate over the onion. Season and cook 10min.
Cover with water (1l), add the chickpeas and cook for 10min.
Prepare meatballs: Mix the meat with the egg, parsley and season. Make small meatballs, add to the sauce and cook for 30min.
Remove the chicken pieces, crumble and return to sauce.
Add the pasta and continue cooking 8-10min.
Take half a ladle of sauce, mix one egg yolk into the sauce, add parsley and lemon juice, pour over the soup and take off the heat immediately.
Thanks for your visit and don't forget to subscribe to my newsletter