An Almost Perfect Salmon…
An Almost Perfect Salmon…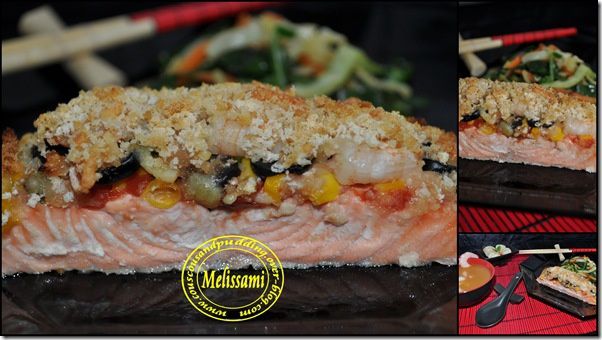 Hello,
Here is the very colourful salmon fillet that I served with my prawn Chorba and I accompanied with sautéed vegetables - stir-fry style. I was inspired by a recipe I saw in a TV programme for children that I watched with my daughter and Melly was very happy to help me prepare it. While I was taking the photos I found that the salmon was not cooked perfectly, so I put it back in the oven for a couple of minutes and this was what inspired the name ..an almost perfect salmon.. lol

Have a nice day
xxx

Ingredients:

Salmon Fillets
Ketchup
Sweet Corn
Parsley
Black Olive
Prawns
Breadcrumbs
Grated Cheese
Salt, black pepper

Method:

Season the fillets.
Cover the top of the fillet with ketchup, then sweet corn, olives, parsley and finish with the prawns.
Sprinkle on top the mixture with breadcrumbs and grated cheese.
Bake for 20min GM6 or until the Salmon is completely cooked.