Prawn Soup + Scallops -- Prawn Chorba شربة قمرون
Prawn Soup + Scallops
-- Prawn Chorba -- شربة قمرون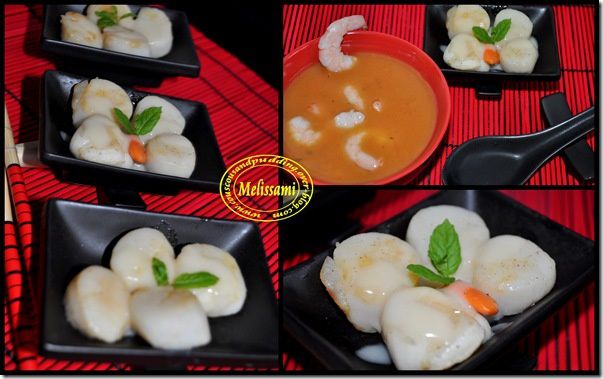 Hello,
For the first day of this week, I will share with you my dinner from yesterday, a Prawn soup, that I served with scallops and salmon (which I will publish tomorrow). This Chorba is also popular and as good as the chorba frik during Ramadan. You can add rice or frik instead of angel hair. For the scallops, I sautéed them with a little butter 2 minutes each side, drizzled with lemon juice and served with sauce Mornay.
xxx

Ingredients

350g prawns
1 onion
1 garlic clove
1 tbsp oil
2 tomatoes
1 tbsp tomato puree
2 tbsp of angel hair
Laurel, thyme
Coriander
Salt, pepper, paprika

Method:

In a saucepan, sauté the onion and garlic in 1 tbsp oil.
Add the diced tomatoes, bay leaf and thyme. Season.
Add 1l of water and tomato paste and cook for 20min.
Add the prawns and cook for 10min.
Pour the angel hair, leave on low heat for few seconds.
Serve with dried coriander.