Chicken and Eggs Tajine -- El Bey W-Dayertou --الباي و دايرتو
Chicken and Eggs Tajine
-- El Bey W-Dayertou --الباي و دايرتو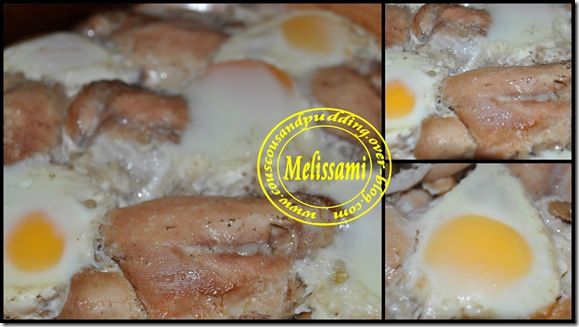 Hello,
Here is a dish known by many different names,
El Bey W-Dayertou --الباي و دايرتو
El kadi W Adlou القاضي و عدلو,
El Kadi wa Jma3tou القاضي و جماعتو
which have got more or less the same meaning Bey, head, Judge, and his entourage or team that is represent by the chicken and eggs. You just need the same number of chicken pieces and eggs to prepare this dish which is a perfect dish for those who are not fans of vegetables .. lol
xxx

Ingredients

5 pieces of chicken
5 eggs
1onion
2 tbsp of oil
A handful of chickpeas
Salt, black pepper, cinnamon

Method:

In a tajine, sauté the chicken onion in oil. Season

Cover with water and allow to cook.

Add the chickpeas and let the sauce reduce.

Take two ladles of sauce off.

Arrange chicken pieces in a circle with a piece in the middle.

Break an egg between each piece of chicken and an egg on the middle piece.

Bake until the white has hardened.

Serve with the sauce.