Cauliflower Fritters -- Adjidjats Bel Flor -- عجيجات بالفلور--
Cauliflower Fritters
عجيجات بالفلور -- Adjidjats Bel Flor --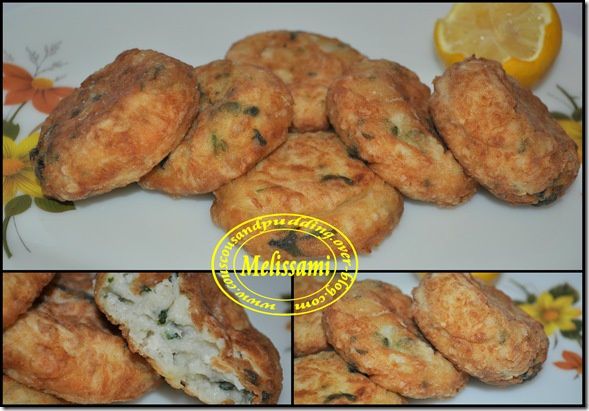 Hello

Today I share with you this recipe for cauliflower fritters or croquettes that I added to the rest of the fennel gratin that I had prepared Wednesday. These cakes are very light although they are fried, and taste too good ....

xxx

Ingredients

1 medium cauliflower
1 bunch parsley
1-2 eggs
1 / 2 teaspoon baking powder
salt, black pepper
Flour
Oil for frying
Lemon

Method:

Wash the cauliflower and separate the florets. Boil the florets for 20 min.

Drain and crush with a spoon.

Add parsley, egg and the baking powder. Mix. Season

Shape into small balls. Flatten between your palms to form small patties.

Coat patties in flour.

Fry in hot oil. Brown both sides

Drain and serve with lemon.